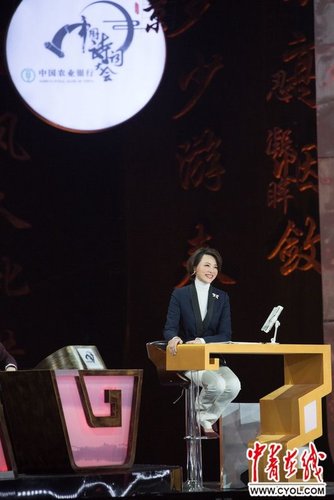 Dong Qing hosts the Chinese Poetry Conference. [CYOL.COM]
The host of a highly-popular Chinese poetry recital competition has received much praise for her enthusiastic work on the show, which has given many viewers a fresh perspective on one of the nation's most popular female TV anchors.
"There is no shortcut in this world; if you want to be a good host, you need to make thorough preparations," said Dong Qing during a recent interview.
In 2015, during the initial stages of the Chinese Poetry Conference — regularly broadcast on CCTV (China Central Television) — Dong received an invite from the show's director to be the host.
At that time, she was about to begin a study course in the U.S. But, due to her passion for traditional literature, she decided to put her previous plans on hold.
"Although the show is quite popular now, my original intention was not to gain ratings," she explained.
"The contest holds enormous appeal for me. Hosting it is a process of learning about poetry and performing."
Before the recordings, she goes over each question with the judges and studies contestants' information and experiences in detail, she said.
"I need to discover the highlights of their life and present their touching stories to audience in the best way," she added.
Dong recalled that one of the contestants had visited some 240 places mentioned in the poems composed during the Tang Dynasty (618-907) and Song Dynasty (960-1279).
"The contestants who stand out are mainly young people. To have an interest only is not enough. It requires long-term accumulation. Some contestants have a remarkable talent that often fills me with great admiration," she said.
"The most valuable thing is not how many classics you have remembered, but whether you can feel the spirits and emotions contained in poetry, and whether you have been nourished by them."
(Source: Youth.cn/Translated and edited by Women of China)