Chen Yufan and Bai Baihe. [File photo]
Singer Chen Yufan, husband of Bai Baihe, released a video statement on Sunday saying he had divorced the actress in 2015, long before Bai's widely-reported so-called "cheating" days ago.
On April 12, a Chinese tabloid reporter had claimed the "Monster Hunt" actress was guilty of "secretly dating" and "flirting" with a young male model in Thailand, based on photos and a video that showed Bai and the man acted intimately. The so-called "extra-marital affair" soon dominated the entertainment headlines with tens of thousands of internet users pointing an accusatory finger at Bai.
However, Chen, now officially an "ex-husband", said they had actually divorced in 2015, but had been keeping it secret to protect their son whom they had agreed to continue jointly raising.
Bai and Chen married in 2008.
"The exposure has caused great harm to my family and child, and also hurt Bai Baihe deeply," Chen said. "So, now, I have to come forward to tell the truth and hope you can give us more space, understanding and tolerance."
He also stated that he would quit showbiz forever in order to be there for his family and be able to fully take care of their child.
Chen's attitude in the video statement was in sharp contrast to what went before. "Those who have destroyed my family, I will destroy you," he angrily wrote on his Wechat account on April 15.
Bai Baihe and her team have not responded to the controversy since the "scandal" erupted. However, well-informed sources said she had cried hardly when she heard the news, and had dropped out of a popular TV singing show last Saturday.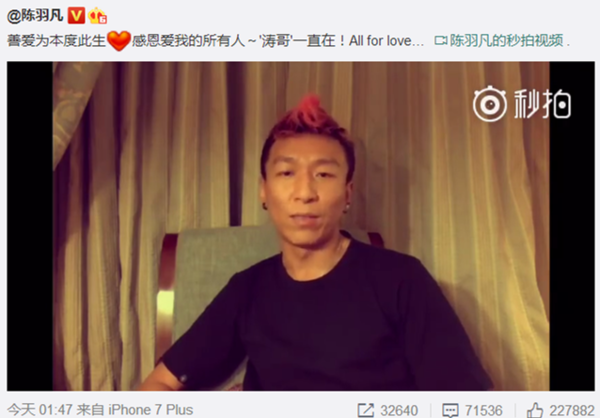 Screen grab of Chen Yufan's video statement. [Weibo]
(Source: China.org.cn)