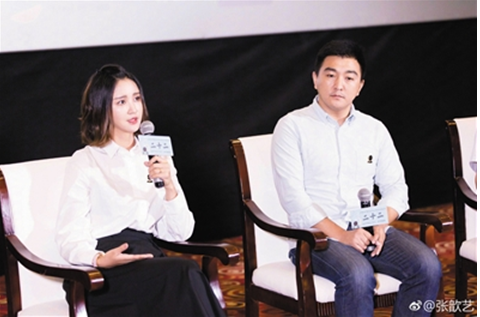 Zhang Xinyi (L) and Guo Ke (R) attend a promotion activity for the film 'Twenty Two' [Weibo/Zhang Xinyi]
Documentary movie Twenty Two, which recorded the daily life of 22 Chinese former sex slave survivors and their memories of World War II, recently became a hit in Chinese theaters.
On the lower left of the film poster is the text: "Special thanks to Zhang Xinyi."
Zhang is a Chinese actress who lent Guo Ke, the film's director,1 million yuan (U.S. $149,253) after he almost suspended filming due to lack of funds.
Before she lent him the money, she had only met Guo once. Furthermore, she actively participated in the promotional campaign.
Box office sales for the film skyrocketed to167 million yuan (U.S.$ 25.3 million) in 17 days, according to data released by Maoyan, a major Chinese film database.
When asked if she would give her money away for a film again, she said "yes" without hesitation.
She said, "Twenty Two showed what I did was worth what I gave away."
(Source: bjnews/Translated and edited by Women of China)