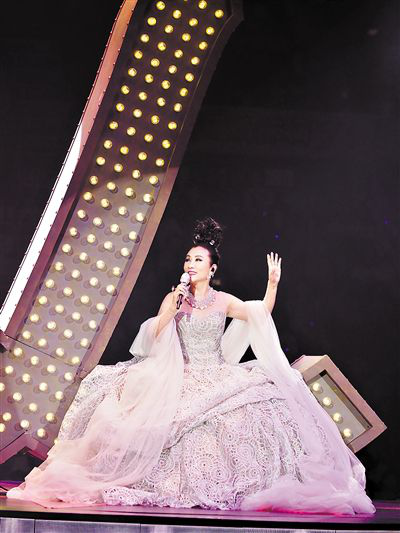 Liza Wang [Women Voice]
Hong Kong singer and actress Liza Wang Ming-Chuen will perform a special concert at Sun Yat-sen Memorial Hall in Guangzhou, south China's Guangdong Province, on June 30, to mark the 51st anniversary of her career.
Wang held a similar concert the city last year commemorating her 70th birthday.
According to the announcement by the long-time celebrity, this will be the first time that she is to perform solo in Guangzhou, though she has appeared there many times in the past.
Wang moved to Hong Kong from Shanghai in 1956 and joined the acting academy in 1967.
From thousands of applicants, she was one among just nine who were selected to attend. She was also the first to graduate from her class.
Throughout her career, Wang became well-recognized in the industry. Love and Passion, one of her most widely circulated songs, was actually the first Cantonese song that became a household tune on the mainland.
Speaking of the theme of the concert, Wang said, "The past 51 years have witnessed my persistence dedicated to this industry. The coming concert will be delivered like a transcript with different stages, backgrounds and costumes, reemerging my life over the last 51 years.
"This concert is special to me because not everyone has the opportunity to perform and sing on the stage with no interruption like I did."
Besides being a singer and actress, Wang has also performed in Cantonese opera.
She said: "The inheritance of Cantonese opera is conducive to the inheritance and development of culture of Guangdong and nearby provinces in southeastern China. It is necessary to pass on the Cantonese opera, and learn from the performance of arts of different schools."
"Though I have turned 70, I'd still like to wear beautiful clothes and be fashionable. As an actress, I think we have to be able to play various types of characters and should also learn about fashion and popular things, ase we are exposed to this environment."
Due to her numerous achievements, Wang has been called a superwoman. To this, Wang responded by saying, "Men are used to dominating in many fields. Nowadays, in many industries, there is no difference between men and women. People are equal. Everyone has the right to compete and achieve their ideals. But women usually share more responsibilities at home, so they may be greater than men.
"I'm also concerned about many issues in society, so I am willing to stand up and participate in social activities. Since our reputation, status, and money are all from people, from the general public, we should take time to serve them.
"Health, career, and body should be equally important. We must be willing to devote ourselves to the career; to be cheerful and inclusive, and find a good partner to spend the rest of our life with him," said Wang.
(Source: Women Voice/Translated and edited by Women of China)