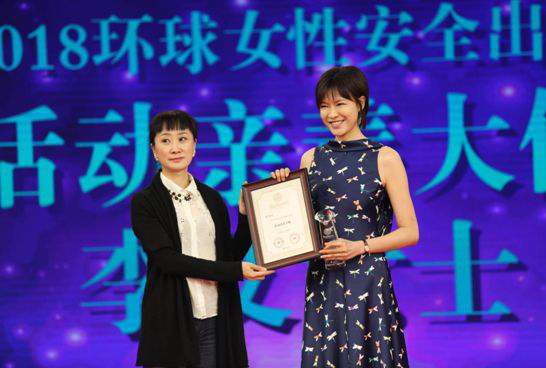 Li Ai (R) is awarded at the event.
The 2018 Women's Safe Travel Experience Summit was held at the broadcast hall of People's Daily on June 5, 2018 to raise public awareness of women's safe traveling.
This event was co-directed by People's Daily and Capital Normal University (CNU), and jointly sponsored by the National Human History Publishing House, Baidai Travel and the Chinese Women's Culture Research Center of CNU.
Officials and guests such as Deputy Editor-in-Chief of the People's Daily Overseas Edition Li Fang, former Editor-in-Chief of China Women's News Lu Xiaofei, Vice-President of the People's Network Song Liyun, and Wang Xiangyu, chairman of Baidai, as well as Chinese host and model Li Ai, attended the event.
Li Ai was also awarded the title of "goodwill ambassador" at the event.
As a model, actress and host, Li has been drawing the public's attention towards women's causes through her own personal strength and influence to praise the independence of women, and, with this particular project, to promote women's travel safety.
Li also delivered a speech at the event noting, "As the goodwill ambassador of this summit, I would liketo thank all our male compatriots. Women are now more independent and self-reliant, and they also pay more attention to their safety when they travel. However, this does not mean that men are excluded, on the contrary, we still need your help, especially when it comes to unjust situations."
"Safeguarding women's travel needs the joint efforts of all people and parties, and we should not only improve relevant laws, but also clarify the responsibilities of various departments, and formulate corresponding supervision measures to ensure that laws can be implemented. At the same time, personal strength cannot be ignored, and safety awareness should turn into good habits to guide our behaviors. We hope that more and more people will be able to raise awareness of travel safety and strengthen travel safety precautions," added Li.
The 2018 Women's Safe Travel Experience Summit is held at the broadcast hall of People's Daily.
(Source: Women Voice/Translated and edited by Women of China)