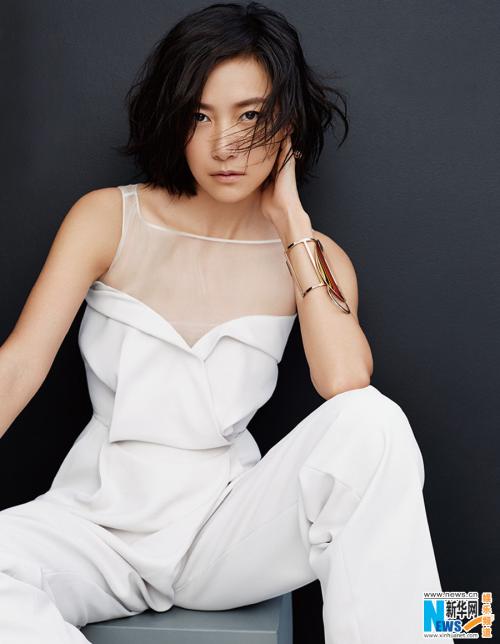 Xu Jinglei [Xinhua]
Famous Chinese actress and director Xu Jinglei recently held a press conference to promote her latest online drama series at her old high school in Beijing.
Speaking at Beijing No. 80 Middle School to launch the sci-fi series My Classmates, Xu, 44, said it marked her first online project as an executive producer.
Xu was born in a residential neighborhood near the Sanlitun area of the city. Due to theThough her parents are both ordinary workers, with strict requirements of her father, Xu tried hard to learn calligraphy and recite Chinese poetry at an early age. In addition, she was also obsessed with painting.
Despite her strong talent in these fields, she unexpectedly enrolled at the Department of Performing Arts of Beijing Film Academy.
In 2004, Xu made her directorial debut with the film My Father and I, where she also starred in the lead role.
The film, which tackled the delicate relationship between a Chinese father and his daughter, received widespread critical acclaim and won her a Golden Rooster for Best Directing Debut.
Her second work, Letter from an Unknown Woman, was a romance based on the classic novel by Stefan Zweig, and won her the Silver Shell for Best Director at the San Sebastian International Film Festival in Spain.
After two successful art-house films, Xu shot the innovative film Dreams Come True in 2006, shot experimentally in one setting. She also sang the theme song.
In 2010, Xu became the first female director in China to gross over 100 million yuan for her film Go Lala Go! Adapted from Li Ke's bestseller of the same name about a young woman's growth in job market, it was Xu's first attempt at a commercial production.
This year, Xu appeared in The Trough released on May 1. She portrays a villain with an exaggerated hairstyle, which subverted the public's impression of her being plain and elegant.
She said, "I was really thrilled to be able to play this character, because this is what I've always intended to do. I have also fulfilled my expectation, which I can barely present in my previous films."
Speaking at her old school, dressed in the school uniform, Xu said, "I'm excited to be here again, because I had a wonderful time for six year in here from 12 to 18."
Xu said that, compared to film, TV dramas allow enough time and space to develop the plot and build a character's image. Regarding the science fiction theme, Xu said, "I like contemporary subjects, and I suppose dramas with such a theme should be seen more on the market".
(Source: People.cn/Translated and edited by Women of China)