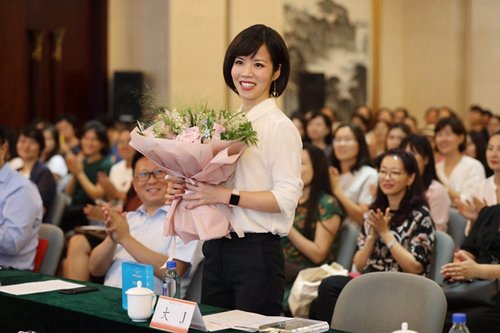 Jessica attends the event in Beijing. [China Women Publishing House]
A famous Chinese childcare expert simply known as Jessica held a special session in Beijing on September 2, during which she imparted professional experience and advice to parents.
Jessica is a family education pioneer in China and the U.S.
At the event, she shared with fans and enthusiastic readers excerpts from her third book of her family early Education trilogy.
The title of the three books are respectively Learn Parenting from American Pediatricians, Learn with American Kindergarten Teachers on Early Education and Learn with Experts on Child's Potential Development.
In the trilogy, Jessica shares the experience of raising her daughter during various periods, and professional knowledge she learned from teachers in the States specializing in cognitive education, as well as knowledge obtained from kindergarten teachers and university professors in the fields of parenting and early education.
She also interpreted some management models she has applied to parenting based on her experience as a professional manager, and summarized effective and practical parenting ideas and methods for the readers.
Since last year, Jessica has accumulated over 1 million followers on social media, and sold over 500,000 copies of her books. Li Kaisheng, director of China Women Publishing House, praised Jessica at the event for her outstanding contributions to the field she is engaged in.
Speaking at the session, Li said: "We have been committed to publishing outstanding books for outstanding women, especially in the fields of motherhood, parenting and family education. Jessica has been courageous in pursuing in this field with the spirit of keeping on learning and improving, which has inspired many parents to learn science and parenting, and which has played a role in guiding and leading the healthy development of countless families. She is an outstanding representative of women in the new era of China and the new generation of mothers."
During the event, Jessica said: "Parents are the 'containers' for child growth. The size of the 'container' determines the future of the child. While they grow up, every parent should consciously learn and improve themselves, so that they can provide children with a larger 'container'."
At the subsequent Family Education Salon, Liao Jingjing, deputy editor-in-chief of China Women Publishing House; Zhu Wei, editor-in-chief of the magazine Confidant; Chen Guang, president and editor-in-chief of China National Children's Center Periodical; and, Lu Jun, CEO of Voice of Future Education Group, actively discussed issues concerning growth-oriented family, learning-oriented parenting and its relationship with self-cultivation, as well as the role of learning-oriented thinking in family education.
Li Kaisheng presents Jessica with an award. [China Women Publishing House]
Experts and celebrities join a discussion session at the event. [China Women Publishing House]
(Source: Women Voice/ Translated and edited by Women of China)