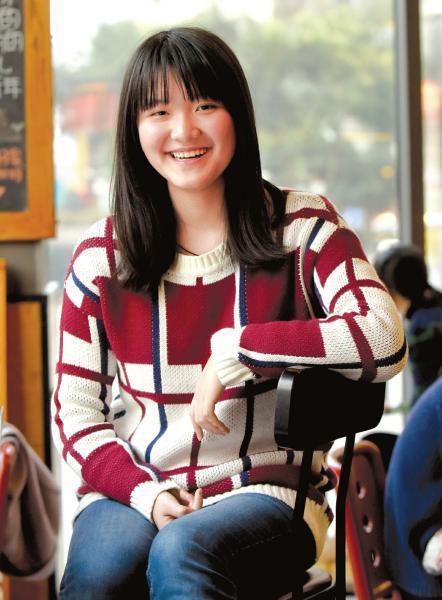 Gou Yashan [Cheng Commercial Daily]


Gou Yashan, 18, from Chengdu Foreign Languages School in Chengdu, southwest China's Sichuan Province, was admitted, under a full scholarship, to New York University Abu Dhabi (NYUAD) in United Arab Emirates, recently.
The university claims admission rates lower than Harvard and Yale as well as scholarship opportunities estimated at U.S. $76,000 annually.
During high school, Gou was not a straight-A student concerned solely with her studies. On the contrary, she ranked between 50th and 70th in class and rarely made it into the top-10 on English tests. She was a member of the school's basketball team and the only non-substitute girl player with an almost full percentage in three-point set shots.
Many students and parents are eager to learn about the educational ways that have helped land her a spot in the NYUAD.
Extracurricular training classes played an important role according to her mother. Under her supervision, Gou attended a number of extracurricular courses since childhood. Her mother spent a lot of time and energy choosing appropriate training organizations and excellent teachers.
At the same time Gou's parents gave her sufficient freedom. "They respect my ideas and support me in making my own decisions," Gou said to Chengdu Commercial Daily.
Gou started learning English at 2, when her maternal grandparents looked after her. To spend more time accompanying her, her grandfather opted to retire early. He would play English-teaching animations and records every day to cultivate her interest in the foreign language and help her develop linguistic intuition at a young age, laying a solid foundation for her English study later on.
Gou also went to many extracurricular English training classes that her mother signed her up for. "As long as I went to study, my mother would leave me to the teacher and not care much what I did."
She also remembers reciting hundreds of ancient Chinese poems and proses under her mother's instruction, which was tested by regular checks until she could keep them in mind. "By repeated practices, I could recite most proses I came across in middle school at a much younger age."
Gou said that her mother took most care of her during primary school because her father did not work in Chengdu. Generally speaking, she grew up in a relatively relaxing environment. Her parents endorsed all of her decisions, including her application to the NYUAD.
According to her head teacher at Chengdu Foreign Languages School Mr. Xu, Gou was outstanding in the use and performance of English though this was not always reflected in her test scores.
Furthermore, Xu also spoke highly of her high emotional quotient. At school, Gou got along well with both teachers and her fellow students. "She is great in communication and perception. She's a very considerate and caring girl. You will feel quite comfortable with her around."
Gou participated in a variety of extracurricular activities at school and won many awards. "All these experiences have helped her become well-rounded, which was extremely important for her success in applying to go to NYUAD."
(Source: Cheng Commercial Daily/Translated and edited by Women of China)