Mao Yue [whbc2000.com]
A 17-year-old high school graduate from central China's Hubei Province was recently admitted into New York University Abu Dhabi and awarded a 2.14 million yuan (U.S.$ 310,500) scholarship, local media reports.
Mao Yue is a graduate of Britain-China International School (BCIS) in Wuhan, capital of Hubei. She is the city's only senior high school graduate to gain a full, highest-level scholarship from an overseas university this year.
The scholarship covers four years' tuition, meals, accommodation, overseas travel, extracurricular activities, medical insurance, transport, and even pocket money.
A Versatile Student
Unsurprisingly, Mao has had an outstanding academic record at school, particularly in English.
She recalled that when she studied in junior high, she took a TOEFL exam – a standardized test to measure the English ability of non-native speakers wishing to enroll in English-speaking universities – and got 96 points out of 120 points.
Mao takes part in many school activities. In her second year at BCIS, she started up a translating club, as well as an outdoor club for people to go hiking, running and riding.
Meanwhile, she served as a minister at BCIS's Model UN – an activity enabling students to learn about diplomacy and international relations – in which she often led members to off-campus events in other cities.
"Sometimes, I went away for three to four days. I practiced my independence abilities a lot," she recalled.
Moreover, she also took part in China Thinks Big – a nationwide research competition held at Harvard Shanghai Center – during which she along with her teammates wrote a report on the reconstruction of an old area in her city, which earned her a place in the semi-finals.
"These were all done by squeezing them into my schedule. Allocating time properly, we can do many things," she added. For her, rich, practical activities are the best way to practice.
According to Zhou Yuesi, a teacher in charge of Mao's class, Mao always heads her class in study, and her papers present distinctive views. In other aspects including sports, drawing and presentation, she has also shown outstanding talent.
Why NYU Abu Dhabi?
NYU Abu Dhabi is considered as one of the most selective universities in the world due to its highly-competitive admissions procedure and generous bursaries. In 2012, only 0.9 percent of applicants were admitted.
Mao said that her application was not just because of its high scholarship opportunities.
"Of the school's students, 70 percent are enrolled from overseas while 90 percent can speak at least two foreign languages. I like communicating with people from different countries. I'm a person of adventure in my heart," she said.
In the following four years, she will pay study and social visits to other nations with her teachers and fellow students every semester. She said that she will cherish each learning opportunity and work hard to try new things.
"I'm interested in both economics and politics. I'll engage myself in study of these directions," she concluded.
Mao Yue (front, L2) at a competition [whbc2000.com]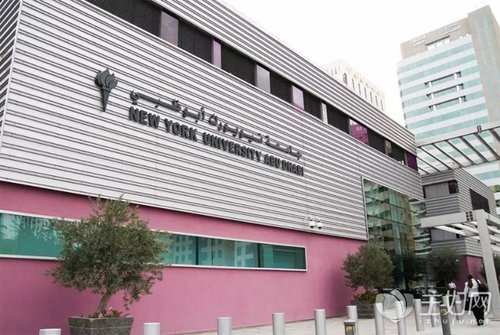 A glimpse at the New York University Abu Dhabi [izhufu.net]
(Source: Chutian Metropolis Daily/Translated and edited by Women of China)