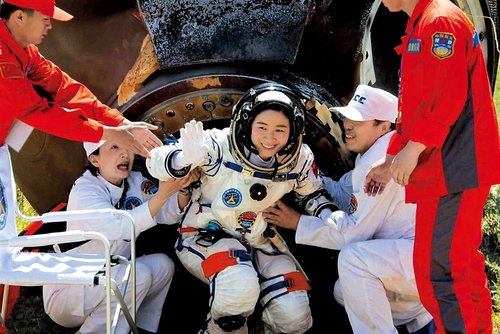 Liu Yang arrives back on earth to accolades in 2012, the first Chinese woman in space. [Shanghai Daily]
Life is composite of dreams. Some come true, many don't. When Liu Yang was a child, she dreamed of becoming a bus conductor, a doctor or a teacher. Reality exceeded dreams. She became China's first female astronaut.
"Perseverance creates luck and sweat casts accomplishment," she told students in a recent role-models symposium at Shanghai's Fudan University.
Born in Zhengzhou, capital of Henan Province, Liu at 38 is slim and gentle, but appearances belie the steely grit that accompanied her when she was blasted into space aboard the Shenzhou-9 spacecraft in June 2012.
When Liu was in her final year of high school, her head teacher recommended her when China was recruiting for female air force pilots. The honor acknowledged her excellent academic record and good eyesight. Against fierce competition, she was admitted to the People's Liberation Army Air Force Aviation College at Changchun Aviation University.
There, academic study was not a problem for her, but physical training proved arduous.
"I was an underachiever in terms of physical agility because most of my classmates were athletes," she recalls. "Intensive training in long-distance running used to be an impenetrable barrier for me. When my classmates had finished their runs and were resting, I was still lumbering along the track with my legs feeling as if they weighed thousand of kilos."
But Liu never gave up. She always told herself to hang in there a little longer. She did extra training at night, even cold nights.
Perseverance paid off. Within 18 months, she was receiving excellent scores in all physical education classes.
When she first piloted a plane in 1999, she fell in love with flying. Liu told the Fudan students that it can be a dangerous undertaking.
In 2001, on a solo training flight, her plane was just 5 meters above the ground when she heard a big bang and smelled something like burning in the cockpit. Keeping calm, she increased altitude to give herself more time to assess her situation. She radioed to ground crews that she would be making an emergency landing.
Once the plane was safely on the ground, investigators found that it had been hit by some 20 pigeons.
"I flew 13 years in the air force and had countless emergencies," she says. "But they had never affected my love of flying. I always felt so lucky to be a pilot."
On television, she recalls watching astronauts emerging from spacecraft after trips to outer space, thinking that she would never had that experience.
But fate proved her wrong. China began recruitment for its first group of female astronauts in 2009, and Liu was among the successful candidates.
That's when the hard work really started.
"The standard of training was not lowered just because we were women," she says. "In fact, the courses that previous astronauts had to complete in three to five years, we had to finish in just two years. At the same time, new technologies meant that the content of the course increased."
For two years, Liu and the other candidates were subjected to relentless training.
"We never went to bed before midnight," she says, "and I think we had only Chinese New Year's Eve off. There were thousands of program instructions to learn, from entering the spacecraft module to returning to earth. We all knew the consequences would be unimaginable if we made mistakes."
The candidates had to repeat actions thousands of times and learn the locations and functions of spacecraft buttons so well that they could find them with their eyes shut.
But astronauts do not only press buttons. They also have to adjust themselves to the environment of space.
One training procedure required the candidates to sit on a swivel chair that revolved 30 times a minute. They had to stay in the chair for 15 minutes. On her first attempt, Liu says she felt dizzy and nauseous after only five minutes.
"I taught myself not to vomit," she says. "I didn't dare say 'stop' because no male astronaut had ever done that in decades of training."
Liu says she did go back to her dormitory in tears that first day.
"I asked myself if I had made a wrong decision in wanting to be an astronaut," she says. "My answer was no. Since fate had given me this opportunity, I had to see it through. It is easy to fail but harder to succeed."
All the sweat, tears and determination paid off the day Liu was chosen as an astronaut for the Shenzhou-9 mission.
Liu says all the hard work was possible because of support from her family. Her husband shouldered all household work so she could focus on her training. He often accompanied her on evening runs.
When she left Beijing for the Jiuquan Satellite Launch Center on June 9, 2012, she held back tears as she waved to her family.
"I used to wonder why astronauts used the word 'expenditure' instead of 'departure' when referring the launch of a spacecraft," she says. "But that day, I suddenly understood. It was like going off to battle. We had to have fearless resolution and courage for sacrifice when exploring space."
Friends have often asked Liu whether she fears death.
"Everyone lives only once," she says, somewhat philosophically. "I cherish life, but there is always something that deserves our endeavors and sacrifice. Aerospace is that something for me."
Putting on a brave face, she once tried to lighten her husband's anxiety by brushing off fears of death.
"If I become a meteor," she told him, "please help look after my parents and marry a new woman, preferable one who is a good cook, unlike me."
It's impossible to really convey the feeling of looking back at earth from outer space, she told the students. It made her feel intensely proud to be Chinese, she said.
When the mission was successfully completed and Liu was safely back on earth, she responded to all the accolades with characteristic humbleness. Her accomplishment was the combined efforts of so many Chinese people, she says.
"I am still learning and preparing for the next mission," Liu concludes.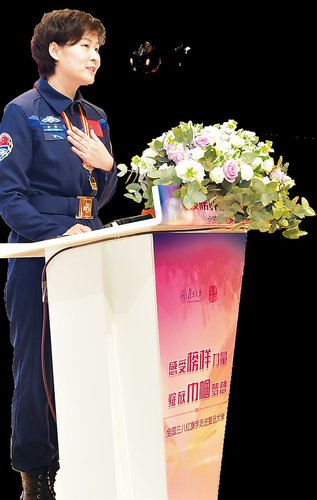 Liu Yang tells Fudan University students to pursue their dreams, no matter how impossible they may seem at the onset. [Shanghai Daily]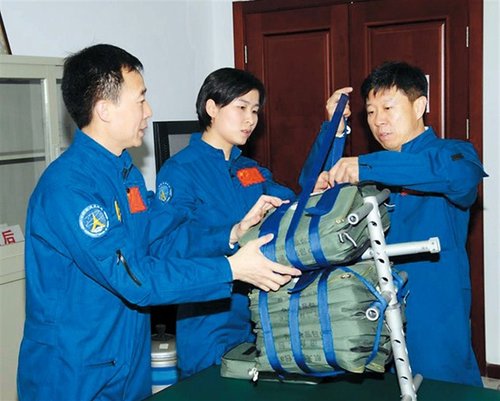 Liu (C) with her fellow Shenzhou-9 astronauts Jing Haipeng (L) and Liu Wang [Shanghai Daily]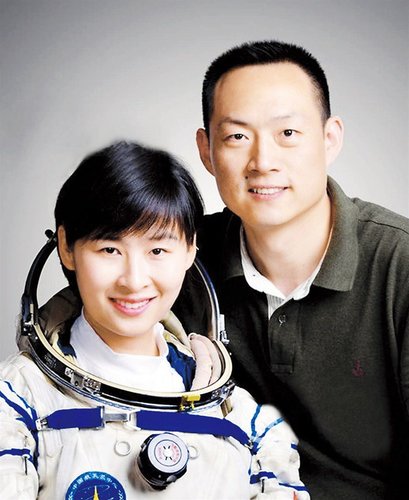 Great teamwork: Liu and her husband Zhang Hua, who shouldered household work so that she could focus on her training. [Shanghai Daily]
(Source: Shanghai Daily)