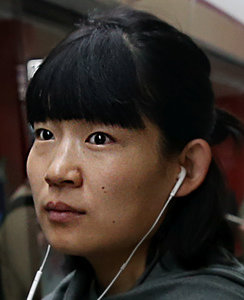 Hu Ranran [China Daily]
"A person can gradually get used to the physical tiredness when it becomes routine, but mentally, you always feel you are lacking something," said Hu Ranran, a 30-year-old mother.
Hu lives in Shunyi district, 30 kilometers northeast of downtown Beijing, but her office is in the central business district in the downtown.
Her working day used to start with a 10-minute bus ride to the nearest subway station, followed by 90 minutes on the subway - changing lines twice - and then a 10-minute walk to her office.
"Now, my husband drives me to the subway station. It doesn't save too much time, but I don't need to squeeze onto a crowded bus every morning," she said.
In December 2014, Hu and her husband bought an apartment with the help of their parents. At about 60 square meters, the place isn't large, but it's a happy home, especially since Hu gave birth last year.
"The price of apartments in the urban areas of Beijing is too high. If we bought an apartment any nearer the center, it would cost too much and we would have to take out a huge loan," she said. "I have to sacrifice my time at this stage in my life."
While she has gradually become accustomed to the daily commute - a four-hour round trip that means she doesn't get home until about 9pm - she feels guilty about missing so much family time.
"I contribute a lot to my family. My husband works in Shunyi (a nearby suburb), so his journey to work doesn't take very long. However, I feel guilty because I can never enjoy any entertainment, such as a movie or dinner at a restaurant with my husband after work, because of the time it takes to get home. I barely have any time to be with my husband or my baby," she said.
However, Beijing's real estate prices mean Hu and her husband have little hope of buying a home near the downtown in the foreseeable future.
"I make more money in my current job than I could if I worked in Shunyi," she said. "I want to save more money for my child, but we don't have the money to buy an apartment in downtown Beijing," she said.
In Shunyi, the average price of a regular apartment is about 40,000 yuan to 50,000 yuan ($5,800 to $7,250) per square meter while the price of apartments near Hu's workplace ranges between 90,000 yuan and 120,000 yuan.
Even though she often feels exhausted when she gets home, Hu likes to spend time with her baby.
"My baby is the source of my strength. No matter how tired I am, I am full of energy as soon as I see him."
(Source: China Daily)