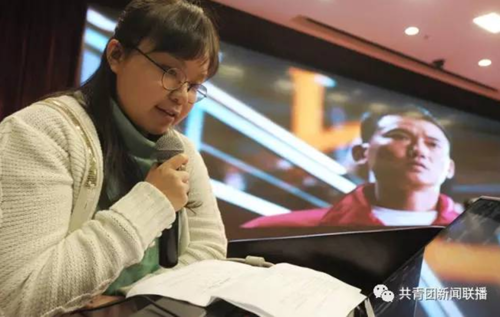 Du Chengcheng explains a movie to visually-impaired audience members. [gqt.cyol.com]
Du Chengcheng has for the past seven years narrated more than 200 movies for visually-impaired people as a volunteer in the city of Wuhan, central China's Hubei Province.
In 2009, a disease left her without use one of her legs. Since then, she determined to carry out pubic services as a lifelong pursuit.
She attended a narrator training course on how to describe movies to the visually-impaired.
The first time she received the task of speaking through a movie, she revised the script more than 20 times.
To write a text for the hit Operation Mekong last year, she stayed in the cinema for eight hours and watched the film four times, as the film was not available online.
So far, she has written nearly 1 million words for over 50 films.
She would stay away till 12 a.m.to write, according to her mother.
A senior visually-impaired man said he appreciated Du as she had fulfilled his long-term dream of "watching" films again.
This year, Du put her movie narrations online.
Last May, she was invited to share her favorite film to 200 visually-impaired kids.
After the movie, a boy stood up and said,"Thanks for your selflessness. Though I cannot see anything, you inspired me that I can live however I want, as long as I try hard."
Her show has also been broadcast live on social media platforms, attracting an audience of over 200,000.
Last July, Du was elected as a member of the Hubei Province Youth Federation. She has also been awarded the China Youth May 4th Medal, a prize for those under 40 who have made outstanding contributions to society.
Du Chengcheng explains a movie. [gqt.cyol.com]
(Source: cyol.com/Translated and edited by Women of China)