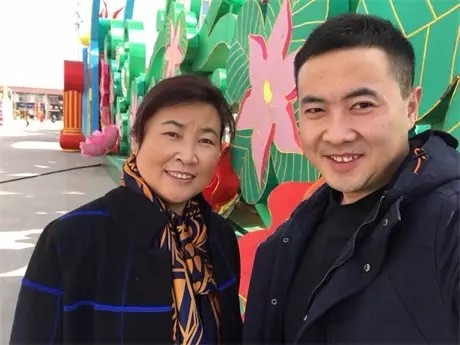 Zhang Shumei (L1) and her son Bian Hao [Women Voice]
Two family members of soldiers in northwest China recently drew the attention of readers of Women Voice, the media publicity platform of the All-China Women's Federation.
Firefighter's Mother Zhang Shumei
Zhang Shumei is mother of firefighting soldier Bian Hao. She moved with him when he was posted for service in the city of Golmud, Qinghai Province. The plateau area is cold and dry, so it is common for residents there at Zhang's age to move to other low-altitude provinces.
Despite the hardships, Zhang constantly encouraged her son to show loyalty and affection toward the Army.
Bian, who serves as deputy political instructor in the Kunlun Squad of the city's Public Security Fire Brigade, has won many titles such as Great Party Worker and Media Publicity Model Individual.
In addition, Zhang is renowned for her strong support to the national defense industry. She attends monthly activities for the relatives of soldiers, during which she always offers her help.
The kind-hearted woman is also willing to assist neighbors whenever they need. For example, she helps take care of her neighbor's children and has offered financial assistance to disadvantaged families.
Soldier's Wife Zhang Yaling
Zhang Yaling has been married to soldier Ma Junfeng for nine years.
Even though the couple are often apart, Zhang is independent enough to manage domestic work by herself. She believes the status of being a wife to a solider means "separation, sacrifice and contribution."
In 2014, she took her mother-in-law and daughter to visit her husband on his army base in Golmud. However, an urgent illness from her father-in-law forced Zhang to rush back home.
After spending long hours caring for the elderly man in hospital, and with a youngster to look after as well, Zhang became emaciated. But she never regretted her actions.
To alleviate her mother-in-law's waist injury, for example, Zhang constructed a horizontal bar for the senior to use to do recovery exercises.
Thanks to the Zhang's support, her military husband can focus more of his energy on work. He has been awarded many prizes in the army, including the title of Outstanding Soldier and Outstanding Party Member.
Several scenes show Zhang Shumei offering help to young soldiers [Women Voice]
Zhang Shumei (R2) with fellow local residents [Women Voice]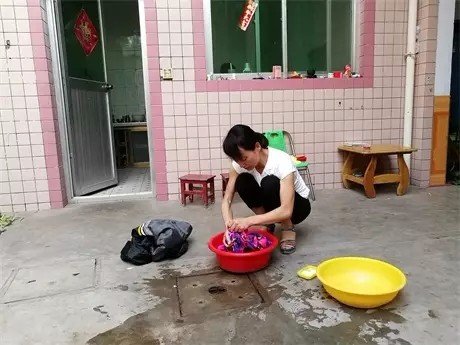 Zhang Yaling washes clothes in the yard. [Women Voice]
Zhang Yaling pulls a cart with the help her daughter and mother-in-law. [Women Voice]
(Source: Women Voice/Translated and edited by Women of China)