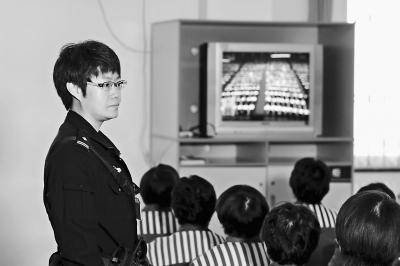 Chen Xiwei (L) stands in a classroom with inmates. [news.china.com]
Chen Xiwei from Beijing Women's Prison has dedicated herself to reeducating and transforming female offenders by providing care and special target programs for 17 years.
Apart from ensuring that those recently imprisoned adjust themselves as soon as possible to their new life, Chen and her colleagues have been preoccupied with disciplining those who often make troubles and violate rules.
Chen explains: "The education and transformation of lawbreakers is just like growing a sapling, which requires involved law enforcement personnel to strive for a sound start, or it would be difficult for those prisoners to remake themselves."
Moreover, Chen has worked with her teammates to improve their management. She has produced tailored educational programs to help inmates cooperate with them in the process of administration, and to make sure they will be eager to reintegrate themselves into the society after their release.
For instance, an inmate surnamed Liu had violated rules and disciplines 32 times before she was sent to the ninth ward, a.k.a. the special wing for the most difficult inmates.
Shortly after Liu's arrival there, Chen came up with a detailed plan to reeducate and transform her on the basis of making an all-round analysis of her information. A turning point eventually came when Liu managed to meet her child face-to-face with Chen's assistance.
Liu has made a sound improvement in the observance of relevant rules and regulations in the prison ever since.
Statistics show that over 96 percent of new prisoners at the ninth ward have willingly recognized their crimes and undergone re-examination of themselves under Chen's education and transformation programs. Meanwhile, all former troublemakers have become law-abiding inmates since they came to the ward.
Therefore, under Chen's leadership, the ninth ward has received many awards and titles including the March 8th Red-Banner Collective and the Outstanding Youth Unit, for their excellent work in recent years.
As for Chen, she was recently voted as a national model in a campaign to look for outstanding law enforcement staff from across the nation.
(Source: the Legal Daily/Translated and edited by Women of China)