Liu Wenli [Provided by Liu Wenli to People's Daily]
Liu Wenli from Beijing Normal University (BNU) has dedicated herself to helping domestic children develop a positive understanding of sex in the past decade.
Liu now conducts innovative approaches to sex education at a Beijing-based elementary school. She first became interested in the field when she was still a student at BNU in the late 80s.
During a decade-long academic study in the U.S., Liu closely monitored the development of Chinese sex education and relevant reports.
Moreover, she started a program on a local radio station in U.S. and held regular lectures to provide local Chinese people with more knowledge about sex and physical health in general.
Liu found a position at BNU when she came back in 2005. Two years later, she began to launch a pilot program at a primary school in the district of Daxing in the Chinese capital.
To ensure a good start to her experimental class, she and her team held a professional training session for local teachers and parents before actually inviting teenage students to sit in her classroom.
Liu's sex education covers a wide range of topics, such as human anatomy, the protection of one's privacy, the fight against discrimination and the prevention of sexual harassment.
Thanks to the introduction of role-play and other participatory instruction methods, local students have shown unexpected enthusiasm towards the class and cooperation with their teachers.
Positive changes have since taken place amongst those children, their parents and teachers.
Involved teenagers have become more willing to talk with their parents and teachers about their inner feelings and convey their emotions. In addition, the principles of respect and equality have been highly emphasized during their interaction and cooperation with others.
Liu and her pilot program received more attention and support from the public shortly after she was thrown into the spotlight amid a controversial online debate last March.
A mom from the city of Hangzhou in east China's Zhejiang Province claimed that the textbook edited by Liu and her colleagues had given children excessive exposure to the topic of sex and human privacy.
Liu's team responded by questioning, "If our children cannot tell the name of a specific organ of their body, how can they give a correct description about its structure and function?
"If they cannot identify the place of sexual harassment inflicted upon them, how can they seek effective protection in the process?"
Liu managed to gain a deeper understanding of sex education after the incident. According to her, sex education should be started before children hit puberty or can even be sexually aroused, since it is conducive to their growth and essential for their healthy development.
Liu admitted that there still are lots of challenges, such as the shortage of professional practitioners and faculties, and the pending fate for sex education to be included in the curriculum of nationwide elementary schools, though the public has become more tolerant towards sex education and other relevant topics.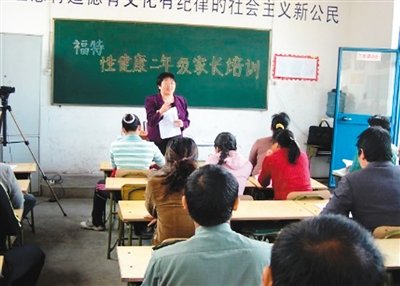 Liu Wenli trains parents of local students on sex education. [Provided by Liu Wenli to People's Daily]
Students take a break from a sex education class. [Provided by Liu Wenli to People's Daily]
(Source: People's Daily/Translated and edited by Women of China)