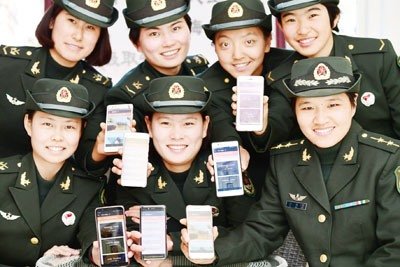 The soldiers participate in research and development for a smartphone app called Learn a Series of Speeches by General Secretary of the Communist Party of China Central Committee Xi Jinping. [China Women's News]
A group of outstanding female student soldiers in a company of the Chinese Southern Theater Command of the People's Liberation Army (PLA) have won several merits and made bold progress this year, according to officials.
The soldiers of Group 75 belong to the command communication division, a special operation brigade.
They were honored as modern "Mulans" after a courageous heroine from Chinese folklore.
Up to now, the college women soldiers have been awarded a Second Class as well as a Third Class collective commendation. Ten women soldiers won merits above third class, and six of them won merits above the PLA Army of their command.
Due to such rewards, the command communication company was given the title of Grassroots Unit Model.
Some group members joined the company in April 2017, but all of them performed well in a short time, with a good rate of over 90 percent. The female soldiers have all passed the special warfare rating.
Company commander Wang Zhongqiang has highlighted their five characteristics: thick skin, courageous attitude, great ambition, inexhaustible energy and tough mentality.
According to Wang the group was trained in the oxygen-poor highlands. They also combated earthquake and carried out relief work. And, they participated in the international union training under extreme conditions.
In short, they embody the bravery and toughness of Chinese soldiers.
(Source: China Women's News/Translated and edited by Women of China)