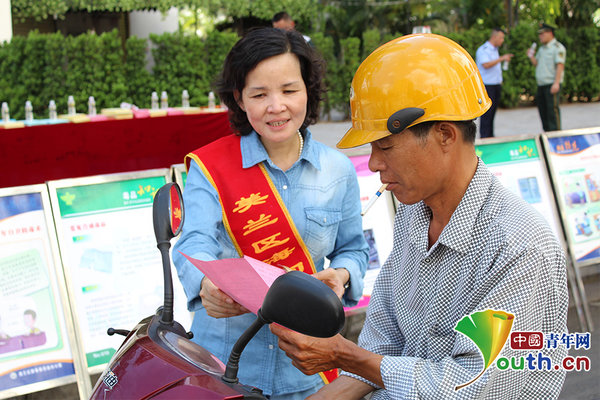 Fu Liangling (L) distributes anti-drugs publications in a residential community. [Provided by Fu Liangling to youth.cn]
Fu Liangling, a grassroots official from the city of Haikou in south China's Hainan Province, has dedicated herself to helping local reformed drug addicts reintegrate into society for the past seven years.
Fu, 50, is deputy director of a sub-district narcotics control office in the district of Meilan in Haikou.
A routine visit is the most direct and effective way for Fu and her colleagues to learn the conditions and progress of former drug addicts in their rehabilitation programs. Thus, she often talks with them about their health status, marriage, employment and other topics, and works out target plans to facilitate their reintegration into the community.
Recovering addicts are often reluctant to engage in such assistance and education programs offered by Fu's department and relevant authorities, since they can suffer misunderstandings from their families and others around them after the exposure of their illicit behaviors.
Therefore, the process of face-to-face interactions with former addicts was rarely smooth at the beginning. Fu encountered numerous verbal insults and was often pushed away during her visits.
She used her smile and sincerity to successfully open the heart and doors of those involved.
Moreover, Fu has made an innovative use of both accessible online and offline platforms to cultivate closer ties, deepen understanding of laws and rule, and increase confidence and courage for the former addicts to thoroughly abandon their bad habits.
Apart from setting up a fund to help them feel the compassion from others, Fu has spared no effort to provide them with opportunities in reemployment in the past years.
For instance, under her assistance, a total of 49 former drug addicts found jobs in 2016.
During an interview in the same year, Fu said that there is no need to highly publicize her stories since she is simply doing what she is supposed to do.
Fu Liangling (R1) visits the family of a former drug addict. [Provided by Fu Liangling to youth.cn]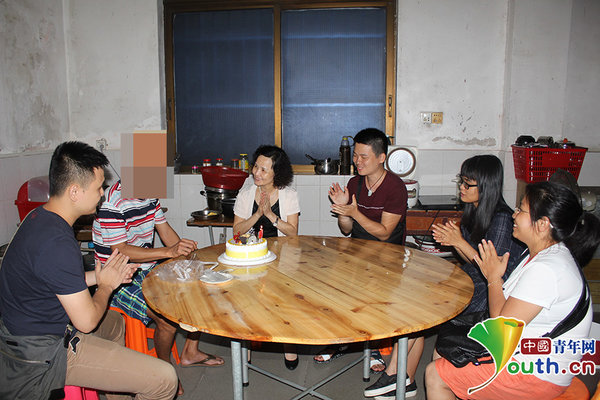 Fu Liangling (L3) organizes a birthday gathering for a former drug addict in his home. [Provided by Fu Liangling to youth.cn]
Fu Liangling during her attendance of the 1st Session of the 6th Hainan Provincial People's Congress last month. [Provided by Fu Liangling to youth.cn]
(Source: qclz.youth.cn/Translated and edited by Women of China)