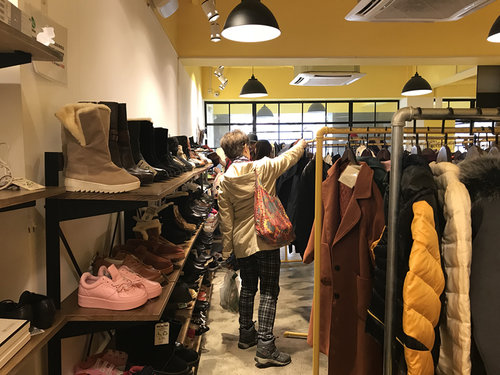 Customers shop at one of Buy42's six brick-and-mortar charity stores in Shanghai. [China Daily/He Qi]
Yu Shiyao's charitable aspirations have been fulfilled years ahead of schedule because of a chance sighting on social media.
"I'd planned to work at a large enterprise after graduation, develop my connections and earn enough money before committing to public welfare undertakings," the 31-year-old said.
But those plans changed when she saw a micro blog for Buy42, an online charity store, during her graduate studies in the United States.
Yu was attracted by the nonprofit, based in Shanghai, that encourages people to donate unused items to its online bazaar, the proceeds of which go toward buying shoes for elderly people recovering from leprosy.
Born in Zhejiang province, Yu has endeavored to do charity work based on her professional knowledge of data analysis and her keen interest in marketing and research.
"It's common for charities to follow the same business model in the US and European countries," said Yu, who was inspired by the numerous charity stores in the US.
"Buy42 combines e-commerce with charity and offers people with disabilities employment opportunities, which is a new public service model in China."
Immediately after graduation in 2011, Yu returned to China and joined the Buy42 group as an intern. She is now CEO of the organization.
Apart from the online shopping store, Buy42 has six brick-and-mortar charity stores in Shanghai and is expected to have 40 stores by the end of this year. In addition to more than 20,000 registered individual donors, companies including Alibaba, Adidas and Intel have cooperated with Buy42 to organize public welfare activities.
However, the young CEO said she has not forgotten how things were back in 2011 when she joined a team with only five members.
"Collecting donations was tough," she said.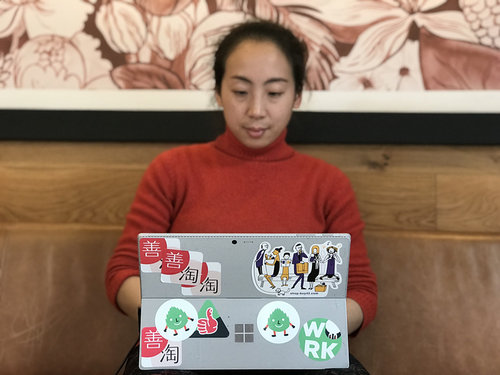 Yu Shiyao works at a cafe in Shanghai. [China Daily/He Qi]
"We had only received about 1,000 donated items at that time and the monthly salary was only 600 yuan ($95)."
Instead of giving up and looking for a better job, Yu chose to fix the problem.
"I encouraged my friends and family to donate things, and went to every home in every neighborhood in the city to get donations," said Yu, who describes herself as a curious and persistent person keen to meet new challenges.
The situation improved and the organization has grown.
"I have become more confident and strong-minded since then. I know it is what I want and will never give up," Yu said.
The organization now employs more than 100 people with disabilities or mental illness, who account for more than half of its staff members.
Yu concedes that it is a challenge for her to manage such a team, but experience and patience help.
"People with disabilities are sensitive, so we need to be patient," she said. "I encourage them to try, but if they can't, no one will blame them. If everyone gives them enough respect and proper work, they can really concentrate and work hard."
Some of the assistants in the Buy42 stores have hearing difficulties and use sign language and explanatory boards with phrases like "Please follow me to the cashier" to communicate with customers. "Obstacles can always be tackled," Yu added.
Besides its physical stores, Buy42 also recruits people from all over the country to work for its online stores.
"I hope to promote the development of the charity store industry in China, and help more people with disabilities contribute to society through work," Yu said.
"Also, it helps members of the public to better understand charity and people with disabilities."
Hao Jiejing, 26, who works near Buy42's Xinzha store and has become a regular customer, agreed. She said she frequents the store as she enjoys the feeling that "I'm shopping not only for myself, but also to help others".
But there is still a lot of room for the charity sector to grow.
Wang Zhiying, who joined Buy42 in 2016 and is now manager of its store on Jiangning Road in downtown Shanghai, said 90 percent of the store's stock comes from donations from companies, which are usually priced at about 50 to 70 percent of their market value.
"We hope donations from individuals will increase not only because they mean a growing awareness of charity among the general public, but also because they have the added value of being a form of recycling, increasing environmental protection," Wang said.
This is part of the reason Yu sees running Buy42 as a lifelong cause and why it is a rewarding personal experience.
"I'm so proud to witness the development of Buy42 and my transformation from a girl interested in my appearance and fashion to a confident woman forging a career," Yu said.
(Source: China Daily)