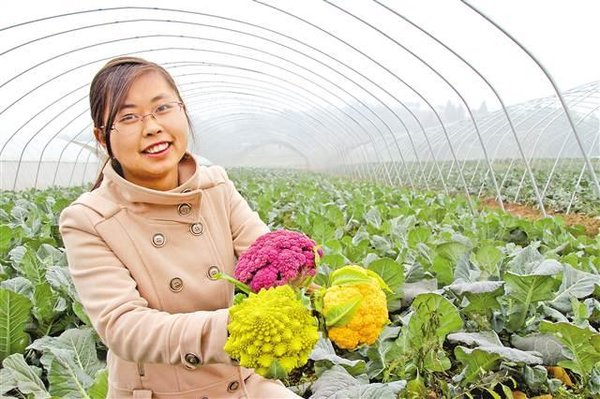 Yang Mei introduces her self-grown vegetables during an interview. [Provided by Yang Mei to cqnews.net]
A female grassroots Party chief from southwest China's Chongqing has taken the lead in helping local farmers increase their incomes via the plantation of greenhouse vegetables over the past seven years.
Yang Mei, 31, comes from a rural family in the district of Tongliang in Chongqing. Her parents used to hope that she could find a job outside agriculture since they had a keen understanding of the difficulties in the profession.
To their surprise, Yang chose to enroll at Sichuan Agricultural University after her graduation from middle school.
Yang explained she held the belief that the future of Chinese agriculture must lie in modern technology.
She found a job in a vegetable-oriented enterprise in the district of Tongnan in Chongqing after her college graduation in 2009.
It took her only two years to go from a rookie in the company to a director in charge of agricultural technology. During her tenure, she acquired advanced technology connected with the plantation of vegetables.
Yang became an assistant to the village chief in Shuangliu in the local district of Rongchang in November 2011.
Local people have grown vegetables there for decades since the village boasts huge natural resources including easy access to water and fertile land. However, the outdated plantation methods meant there was little or no market for their produce.
Therefore, Yang came up with the idea of leading her fellow villagers to integrate greenhouse technology into their vegetable business.
She personally engaged in the plantation process of greenhouse vegetables in a pilot program when local people refused to trust her and even ridiculed her over the daring proposal.
Without hesitation, Yang and her boyfriend used their savings, which were initially intended for their upcoming wedding, to build eight greenhouses in December that year. They chose to live in the greenhouses to better nurture vegetables and monitor their growth.
Three months later, Yang's cucumbers went on sale at a higher price while local villagers had just begun to plant their seedlings.
Up till then, she gradually won the trust of local people over her piloted greenhouse business.
Even an unanticipated torrential flood, which destroyed all Yang's belongings in July 2012, failed to engulf her determination to grow greenhouse vegetables.
To encourage more locals to follow suit, Yang held a wedding ceremony with her boyfriend in their greenhouses in 2013.
During a reshuffle of the grassroots Party committee later that year, local people unanimously voted Yang as their Party chief in recognition of her contributions and sacrifices over the years.
Apart from organizing local people to form a cooperative with an emphasis upon vegetable plantation, she has provided them with technical training services on a regular basis, purchased two vehicles in the delivery of their produce, and constructed storage facilities and a wholesale market. She registered a brand as well as a company in an effort to further enlarge their market share and protect their interests.
So far, over 80 households in the village have built their own greenhouses and over 300 families have joined the cooperative.
(Source: cqnews.net/Translated and edited by Women of China)