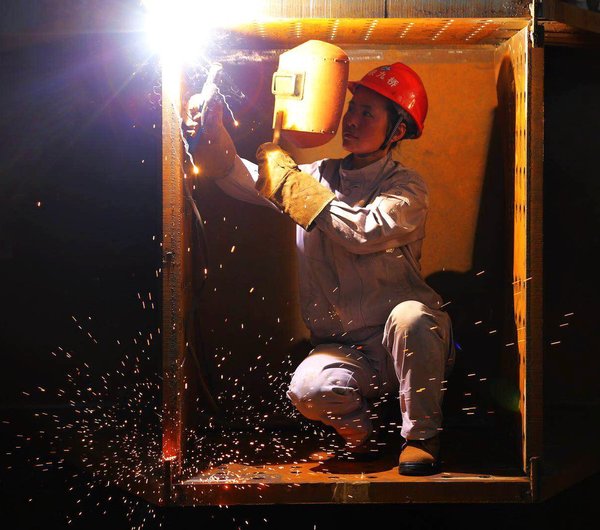 Wang Zhongmei, 36, leads a team of mainly female welders that builds and repairs key structures across China. [China Daily]
In the 1940s, the United States had its Rosie the Riveter. And now China has an updated version of its own heroic female worker — Wang the Welder.
Leading a team of 18 welders, most of whom are women, Wang Zhongmei, 36, devotes herself to the sometimes grueling and hazardous occupation - one she learned from her father, a skilled welder in his own right.
"Influenced and inspired by my father since I was a child, I found welding to be amazing work," she said.
Welding is a skill that requires brains and brawn, and a clear mind able to stay focused on specific tasks.
Wang's work "uniform" includes extra-heavy flame-retardant clothing and cumbersome protective eyewear, all while carrying a white-hot torch to connect metal to metal.
The physical demands of the occupation mean women need to try even harder to keep up with colleagues in a typically male-dominated job.
After completing her education at a vocational college in Jiangxi province in 2001, she joined China Railway Jiujiang Bridge Engineering Co as an entry-level welder.
Her first day on the job was memorable — all for the wrong reasons. "My eyes were all swollen with the heat and light when I finished my first day, and I felt like my face was peeling off," she recalled.
Wang said she was scared at the time of the potential risk of disfigurement, and her father even advised her to quit. But she persisted and gradually became the company's chief welder.
"In my eyes, welding is like the life of a bridge. Especially along the welding line, each new joint is just as important as any other," Wang said. "When I hold the welding torch, it's more like stitching together fabric into clothes, and I try to make it like art."
And Wang knows a thing or two about bridges.
In 2005, she helped overcome the technical difficulty of connecting parts of one of the world's highest bridges - the Sidu River Bridge in Hubei province.
Narrower distances between plates require more sophisticated welding skills, and the slightest flaw could endanger the integrity of the entire structure.
Through her experiences, Wang boldly created her own unique and innovative welding methods. She devised a new technique that enabled her to cut through thicker steel plates with one slice.
The newly developed process was even named after her, and helped bring tremendous benefits to the industry.
"Of course I like dressing up and behaving like a real lady. But at the end of the day I'm more concerned about my work attitude and skill level so that the bridges we work on are as safe as possible," Wang said.
Thanks to her work on 17 innovative projects, she helped set or raise national welding industry standards.
"I hope my spirit of craftsmanship will inspire front-line workers to devote more to developing advanced manufacturing," said Wang.
For now, she said she hopes to pass on more of her enthusiasm and techniques to the next generation as a way of paying things forward.
"It was also my father's hope that I would deliver the welding spirit to the next generation to have a positive impact on thousands of people," she said.
(Source: China Daily)