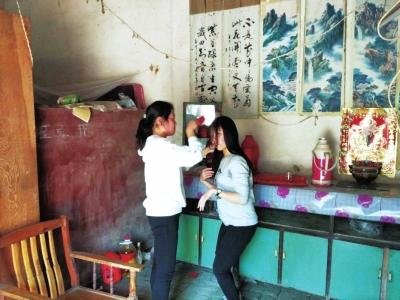 Xing Huanhuan combs hair for her sister. [zhld.com]
A 19-year-old young woman, who has been taking care of her sister for 12 years, aims to be a doctor.
Xing Huanhuan is a student in a high school in Dancheng County, Zhoukou City in central China's Henan Province.
She has a sister named Xing Yanyan who was constrained by congenital disabilities in her legs and was unable to stand firm or walk without support.
Because Yanyan is two years older than her sister, after two years waiting, the two sisters finally went to the same primary school together, then the same middle school, and then the same high school.
The two sisters are rarely separated.
Although not in the same class now (the school was unaware of the situation of the two sisters), Huanhuan still always waits for her sister at the agreed staircase after class.
She will first escort her sister to the canteen, help her to sit down at her table, buy two lunches for them, then help her sister back to her classroom.
But if there is an exam, she is unable to take care of her sister. On these days, her sister can only buy a steamed bun, because she will spill soup and vegetables on the ground or other students due to her lack of control of her legs.
In a midterm exam, Huanhuan's examination room was a little far from her sister's, thus her sister had to have lunch without waiting for her, but not before being knocked down by a classmate running hurriedly down the corridor.
From then on, Huanhuan became more meticulous in taking care of her elder sister.
When they were senior students, Yanyan lived on the 4th floor of the dormitories. Huanhuan would always help her sister back to her bedroom after school before doing anything else. After making the bed for her sister, she would have to pick up a bucket of water. One basin for the evening, the rest for the next morning.
Whenever they go to school, Huanhuan would have to carry bags and clothes for both of them.
"I feel more close to my sister as we've grown up," Huanhuan said.
"We were teased by classmates when we were kids," she added. Although she wanted to escape from others' gaze, she would always go back to take care of her sister.
Huanhuan also takes on all the tasks of caring for her sister on Sundays when they return home because their parents are at work all day.
She helps her sister wash her clothes, washes her hair, and makes the bed, amongst other tasks.
She never says anything that could make her sister feel uncomfortable, but will study together with her sister, and encourage her whenever her sister is alone.
Huanhuan wrote in her diary: "Tagore told us that what you are suffering today will become light, and will light your way to the future. Misery can be painful, but it can also make people strong and compassionate. I hope my sister can change her mind in misfortune and become strong."
Huanhuan's dream is to go to a medical university and become a doctor in the future, thus she can cure the same disease her sister has suffered and change the fate of more families.
The sisters' story has inspired numerous people. More and more students and teachers have also tried to help Huanhuan, all giving Xing Yanyan more encouragement and confidence.  
(Source: Chinanews.com/Translated and edited by Women of China)