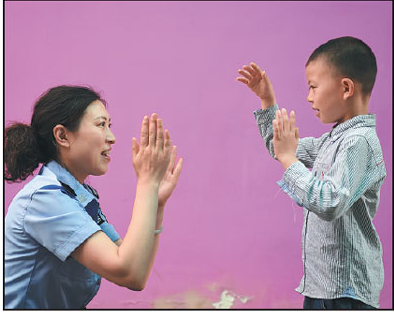 Jiang plays with her son. [China Daily]
Only two things worry Jiang Min these days; whether her 7-year-old son will sleep well in his own bedroom, and working out the best primary school for him to attend.
Zheng Jing is not Jiang's first child, but it is the first time the 38-year-old has dealt with this sort of parenting problem. She feels as inexperienced as any other greenhorn mother.
"I always felt it was too early for him (to sleep on his own) and was worried that he would be reluctant. But on the contrary, I'm unable to sleep well without him," she said.
Jiang, a police officer in Sichuan province, lost 10 relatives, including her 2-year-old daughter and her mother, in the magnitude 8 earthquake whose epicenter was Wenchuan in May 2008.
Despite knowing about her loss, Jiang insisted on working on the frontline in Beichuan county, helping to rescue survivors. She worked until she fell to the ground exhausted.
Every year, during Tomb Sweeping Day or Spring Festival, Jiang brings her family to Beichuan to pay their respects to their loved ones.
"As the years pass by, the shadow of the earthquake is fading. Now I am learning to simply accept whatever life gives me," she said.
In 2009, Jiang was transferred from her home in Pengzhou to the Chengdu police bureau. She works as an administrator for the anti-terrorism squad, dealing with the welfare of grassroots officers.
"It's been my dream to be a police officer since high school when I saw a movie about a brave female who saved a whole city. The movie has had a huge influence on me ever since," she said.
Following the implementation of the Counterterrorism Law of the People's Republic of China in 2015, Jiang was selected to oversee a new media platform, "Counterterrorism in Chengdu", last year.
"Counterterrorism is a completely new field for me. I have had to equip myself with all kinds of relevant information from every possible platform in my spare time, and make sure people can learn the basics of how to protect themselves on our platform," she said.
Relatives from their hometown have told Zheng Jing that he once had an older sister, and the boy has asked Jiang several times about the sibling he never met. In response, she simply explained that his sister died in an accident.
"He's just a small kid full of happiness and brightness. I don't want the scars of this catastrophe to affect him too much at such an early age. I will tell him everything when he grows up. For now, I have only taught him how to survive in an earthquake, which is all he needs," she said.
Jiang is not planning anything special to mark the 10th anniversary of the Wenchuan earthquake, which will fall on Saturday. Instead, she will stay at home to conduct research about local primary schools and cook dinner for her son and husband.
"For people who did not go through the earthquake, the 10th anniversary may be a special time to hold a memorial ceremony. But for me, every year matters. People may forget it in 20 years. I can't. I will remember it for the rest of my life," she said.
(Source: China Daily)