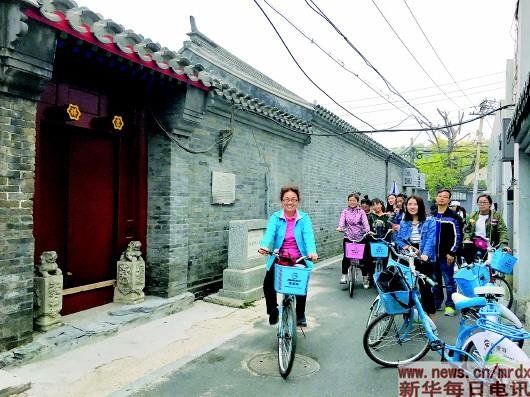 Yang Zongli (left) takes students on a cycling tour to Chen Duxiu's former residence. [Xinhua]
Yang Zongli is a teacher of ideology and politics on the Outline of Modern Chinese History course for undergraduate students at Beijing-based Minzu University of China (MUC).
Yang has taught ideological and political courses for 33 years. Those metaphysical courses are relatively difficult for students to understand, such as The Chinese Revolutionary History, A Special Study of Mao Zedong Thought, and Theory and Practice of Scientific Socialism.
However, she has consecutively ranked first in the rating list for all teachers, held at the end of every semester.
Liu Qi, a student from another college, gets up early every Friday to travel to Yang's lesson by subway, which will take at least 45 minutes.
"Yang's ideological and political lessons are as wonderful as lectures," Liu said.
Liu listened to the audio of Yang's lessons by chance, and he then began to sit in Yang's class.
The attendees in Yang's class also include overseas returnees, young teachers, and young people who have already graduated, aside from students like Liu.
The 200-seat classroom was filled up during Yang's lessons. In order to find a seat, many students use their personal belongings to save seats before having breakfasts.
Liu also found that no one plays on their mobile phones or reads other books in Yang's class. All of them listened carefully in her class.
A student said that: "She (Yang) never repeats what the books say. Now, I am a senior student, and I think I'm lucky enough to have such a good teacher."
Yang was diagnosed with lymphoma cancer in April 2013. One day on her way to the hospital for examination, she was overwhelmed by fear of the disease and did not even realize she missed the destination.
"I realize that you will miss the beautiful scenery along the way in your life if you are indulged in sadness. I must receive treatment and try to live a normal life," Yang said.
Such experiences also became her teaching material to encourage students to overcome difficulties.
Yang loves taking pictures and posting them on her WeChat account. She will take pictures and write down her feelings when visiting museums and historic monuments.
In her classes, she often shares these pictures with students and helps them understand the courses further.
Once, during a lecture on core socialist values in Tsinghua University, a student asked Yang how long it takes her to prepare for the lecture.
Yang said three hours. However, Yang thought the answer should be that it was a lifelong process, because she uses experiences that have happened in the past or scenes from the latest movies as materials in her class.
MUC Vice-President Zou Jizhong said: "The core competitiveness for Yang is her love and earnest efforts devoted to her courses and students."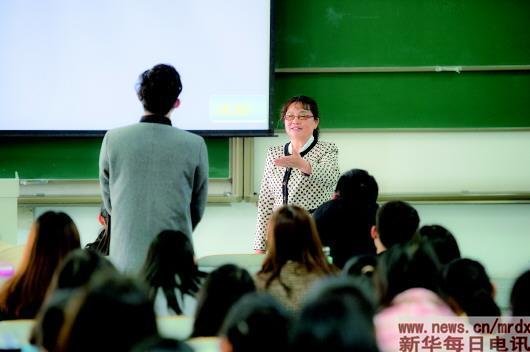 Yang answers questions of students in her class. [Xinhua]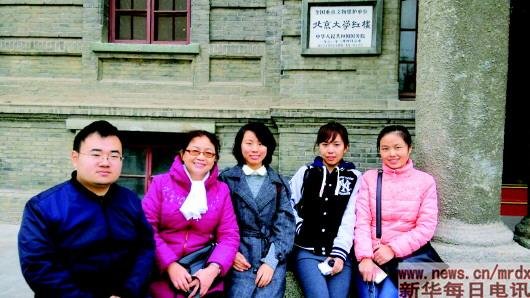 Yang takes students to visit the Red Building of Peking University. [Xinhua]
(Source: Xinhua/Translated and edited by Women of China)