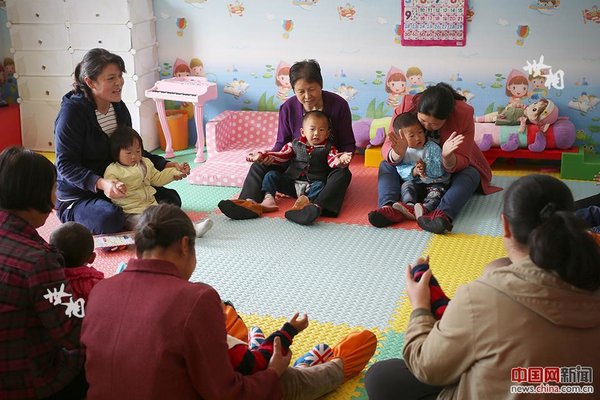 Hu Xiaoke plays games with children along with their mothers and grandmothers. [China.com]

Hu Xiaoke, the administrator of the first Parenting Center in Hailian Village in northwest China's Shaanxi Province, recently spoke to journalists about her experience of teaching childcare in rural areas.
The Parenting Center is a pilot project of the local public welfare program. It was set up on the theme of "Nurturing for the Future", and is aimed at improving opportunities for babies and toddlers who grow up in poverty-stricken circumstances.
The project focuses on scientific childcare, and the development of infant cognition, language, sports and social skills.
The project, with support from the Alibaba Poverty Alleviation Fund, was officially launched in Ningshan County on April 11.
Nearly every morning, Hu goes to the Parenting Center along with local mothers or grandmothers to play games with children and tell them stories.
She also shares her own experiences and answers questions for mothers who take tests after attending lectures on parenting.
Hu said: "Mothers and grandmothers are the most important students in the Parenting Center, because I teach them how to better look after their children."
Hu also visits many families to encourage the parents of so-called "left-behind" children and elderly people to bring their young ones to the center.
"In rural areas, more and more young people choose to work in cities, so their children get left behind to be raised by their grandparents," Hu said.
She said: "Those children brought up by their mothers are more easy-going and easily obtain new knowledge. However, those raised by grandparents are likely to be more reserved."
The Parenting Center is just like a children's playground, equipped with a children's slide, balls, blocks and picture books. However, the difference is that much more attention is paid to adults.
In 2019, it is planned that there will be 20 such centers in Ningshan County, supported by the local government — which will provide sites, organize recruitment and assess the instructors.
The project leader explained: "The government's lead is not only the core factor affecting the final result, but also the foundation of whether it can be learned by other pilot projects."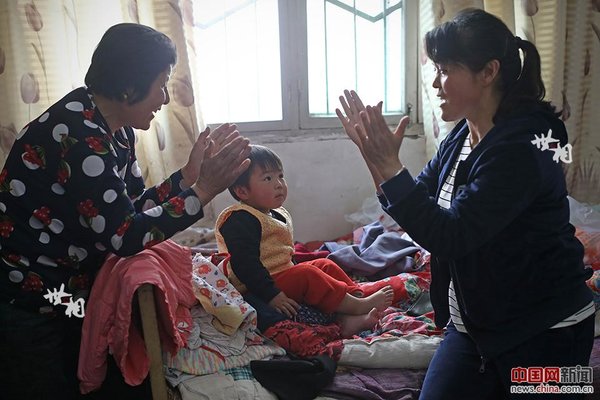 Hu Xiaoke teaches a grandmother to play with her granddaughter. [China.com]
Hu Xiaoke speaks at the opening lecture of the center. [China.com]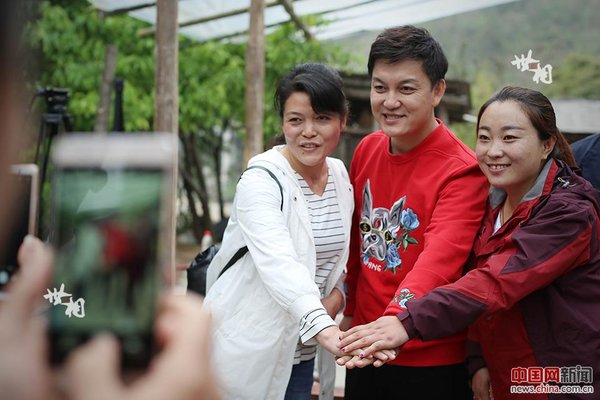 Hu Xiaoke takes the picture with Li Rui, a famous media personality. [China.com]
(Source: news.china.com.cn/Translated and edited by Women of China)