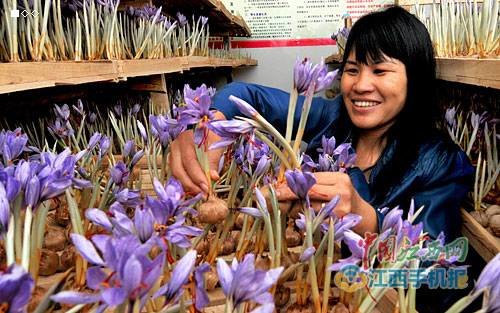 Zhang Danying has successfully culitivated the saffron crocus in east China's Jiangxi Province, 2015. [cyone.com.cn]
An entrepreneur has developed an agricultural economy to lift villagers out of poverty and created a children's park to improve the quality of their out-of-school time in Yujiang County, east China's Jiangxi Province, over the past few years.
Zhang Danying is president of Jiangbei Women's Federation in Yangxi Town in Yujiang.
She was honored as one of China's Good Persons in April by the Central Civilization Office.
After a decade of hard work, Zhang, who started from scratch, set up a garment-processing factory in Jinjiang, a city in Fujian.
Her success in Fujian did not deter Zhang but instead further strengthened her determination to return to her hometown, especially after she read a letter from her son in 2008.
She wanted to provide a better education for her child, take good care of the elderly in her family, and reward the villagers who had helped her.
After returning home, she formally registered and established the Fuchang Rice Cultivation Cooperative in Yujiang after thorough preparation.
She signed circulation lease contracts with 456 farmers for 1,358 mu (91 hectares) of land and 500 mu (33 hectares) of barren mountainous areas in Yangxi, Huangxi, Wuqiao and other townships.
The assets of the cooperatives reached 2.3 million yuan in 2015. Each member of the cooperative earned over 1,800 yuan and their per capita income increased by 300 yuan.
In order to innovate farming models, improve the economic benefits of the land, and realize scientific farming, she introduced new varieties and created a precedent for the planting of saffron in Jiangxi, achieving a net income of 18,660 yuan per mu.
The cooperative has enrolled 118 members and helped increase their income to 35 percent more than that of an ordinary villager household.
After the success of the saffron trial plantation, Zhang always imparted the planting technology to any villager who came to ask without any reservation.
She also allowed impoverished households to buy shares, which drove 30 impoverished households out of poverty.
"Now, it's time to reward society after success," Zhang said.
In order to enrich the amateur cultural life of rural women in her hometown, she established the Women's Dance Team, personally bought audio and other equipment and invited a dance teacher to teach the local women.
Zhang also invested 1.68 million yuan to build the Yujiang Happy Children's Home which is able to provide free food and accommodation for nearly 80 children on the weekends and holidays.
Thanks to her hard work, 49 children who have been left behind by their migrant parents are now living in the facility.
Beds, washing machines, multimedia classrooms, and a library are all available in the building so as to better the children's lives.
She always encourages the students who are shy and sensitive and helps them establish their confidence.
When asked why she did this for the children, Zhang replied: "When I was a child, my parents divorced and I had an unhappy childhood, so I wanted to try my best to give them a better one."
(Source: Women Voice/ Translated and edited by Women of China)