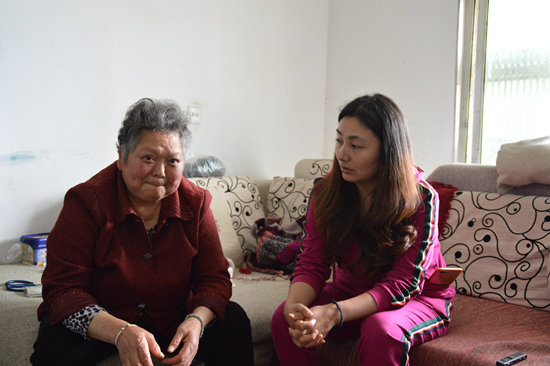 Zhou Chunrong visits a villager in the village of He Taoping, Wenchuan, southwest China's Sichuan Province. [People.cn]
A female entrepreneur has resigned from her stable job to build the Happy Farmhouse to contribute to the reconstruction of her hometown Hetaoping after a disastrous earthquake happened in Wenchuan in 2008.
Zhou Chunrong is a woman from the village of Hetaoping, Wenchuan, southwest China's Sichuan Province.
"Hetaoping was relatively backward due to inconvenient transportation and out-of-date infrastructures," Zhou said.
The second day after the Wenchuan earthquake, Zhou, from Chengdu, rushed to Wenchuan to find her family. Along the way, she saw many volunteers combating the effects of the earthquake and doing relief work, which moved her deeply.
As a native, she made a decision to contribute to the reconstruction of her hometown with her own efforts.
Severe earthquakes damaged the houses in the village, but reserved the natural ecological vegetation. Hetaoping is at an average elevation of 1,000 meters above sea level with mild and humid weather all year around.
The idea of utilizing natural resources to lead villagers get rich was rooted in her mind.
After discussion with her husband, Zhou resigned from her stable job and returned home to take the lead in opening a guesthouse named the Happy Farmhouse.
She built a two-story house in the village after mortgaging her house in Chengdu in 2008. Inconvenient transportation and backward infrastructures led to few tourists.
Coupled with Zhou's lack of experience in management, she made a loss of nearly 90,000 yuan in the first two years.
Zhou realized that only if she made the farmhouse a brand could she save the business. In order to attract customers, Zhou first took her friends and families from Chengdu to the house and provided them with free food and accommodation.
"I wanted people to experience life on a farm, breathe the fresh air, and enjoy the beautiful scenery here," Zhou said.
Her hard work paid off. Thanks to her efforts and persistence, the house gained its first batch of regular customers and won a good reputation. An increasing number of customers booked visits to enjoy their leisure time and spent the summer there.
Zhou expanded her business in 2012 and built a larger house which is able to accommodate up to a hundred tourists at the same time and provide them enough food and resting place.
Wenchuan county government begun to highlight leisure and summer resort tourism in Hetaoping in 2014.
The village's infrastructure such as water, electricity and roads have been tremendously improved and several tourist attractions have also been gradually rebuilt.
These changes attracted more tourists and Zhou's farm business has been getting better and better since then.
"Four tourists from the island of Taiwan have been enjoying their holidays at my house for three consecutive years," she said.
Zhou is now making efforts to help villagers get rich through rural tourism after her success.
"She shared with me her managing experience and often introduces customers to me," a man surname Zhou said. He has built his hotel under the guidance and mobilization of Zhou and started operations last year.
(Source: Women Voice/Translated and edited by Women of China)