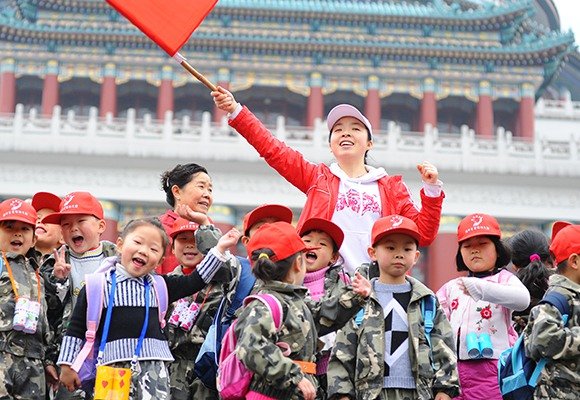 He Xiaoling takes kids to go hike in autitorium. [Women Voice]
A female kindergarten teacher has persisted in her unique approach to child development and dedication to education reform in southwest China's Chongqing over the past two decades.
He Xiaoling, 39, who works at the city's Yuzhong kindergarten, said: "Activities such as playing games outside, doing water fights and catching insects are greatly enjoyed by students.
"These are the most precious forms of education and learning for them."
Her first job was as a teacher at a kindergarten in Wanzhou, aged just 16. Although she was young at the time, she held her own view of education, thinking that children should be acquainted with nature.
She says that engaging with nature, society and life will help youngsters learn effectively and grow up healthily.
Therefore, she designed and planned challenging activities such as trips to the nearby mountains to explore the forest.
The children were exited, while many other teachers worried about their safety and tried to convince her give up the idea.
"It is not advisable to restrict children from participating in activities so as to avoid danger," she said.
Before the activity, she spent one week helping children learn relevant knowledge and build their safety consciousness.
The activity was finally carried out after her numerous preparations and proved a success.
"What the activity brings to children is hard to express in words and will benefit their lives forever."
The activity prompted her to strengthen her educational philosophy: liberate children's spirit, bring them closer to nature and let them grow freely.
He Xiaoling was admitted to Yuzhong District Experimental Kindergarten in 2009.
Standing at the kindergarten gate, she smiled to welcome every student every morning. She made teaching props even after children left school.
Many of the children in the city lack the opportunity to get close to nature, so she created a garden in the corner of her classroom in which kids could plant flowers.
She also conducted several games connected with nature and sometimes would invite children's parents to play together with the class.
All these brought many changes to her students after just a month.
"My kids became brave, optimistic and stronger than before," one of the parents said.
She quickly grew to be a key staff member and began to engage in education and teaching reform, exploring effective teaching methods and strategies.
She has published many articles and been awarded with many titles including the city's outstanding Party member, March 8th Red-banner Pacesetter and outstanding kindergarten teacher.
"It is unique to be outstanding in normal things," she said.
(Source: Women Voice/ Translated and edited by Women of China)