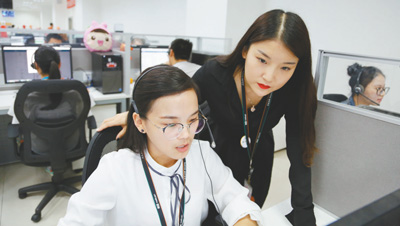 Wang Huan helps a colleague with a user's complaint. [People.cn]
The reporters of People.com recently approached the Meituan Food Delivery Service Team to reveal their little-known working routines.
Wang Huan, 28, entered this field in October 2015 as a take-out customer service executive. She told the reporter that this position requires an applicant with a college degree or above, strong communication abilities and standard spoken Mandarin.
The reporter also noticed that during the interview, customers' feedbacks were being constantly received, including complaining about poor food quality and slow delivery, whereas some made special calls simply to thank the delivery staff.
"People have this stereotype of thinking of customer service personnel as people who just answer the phone, but it actually demands many different abilities to handle various situations. I could only answer 20 or 30 calls per day when I first started in this profession, and dealing with a single problem might take me as long as more than 20 minutes. Now, I am becoming more and more skilled so I can respond about 100 calls a day and solve a problem in three or four minutes," said Wang.
Wang also stated that, "Midday and evenings are the busiest times for us since it's the peak time for meals. As a customer service worker, I am always swamped in the day and night shift rotation. I have often missed parties with my family and friends due to working overtime."
Besides this, Wang also said that they were less averse to be misunderstood by customers. "Nowadays, customers are increasingly demanding service quality, therefore we need to be more patient. Anyhow, customer service staff are the windows to display the e-commerce platform. We not only are supposed to help users solve practical problems, but also collect the feedback for the platform, so as to improve the customer experience," Wang added.
Wang has since been promoted to Expert Service Staff for her excellent operational capability, being responsible for handling food, transportation and other security problems.
However, Wang is not the only famous face in this industry. Cui Panpan, who was nominated as the top service representative at Meituan's annual meeting, turned a consumer dispute that she successfully handled into an improvised sketch comedy.
In March of this year, Meituan adjusted its assessment indicators and encouraged its customer service staff to break through the company's inherent norms when accepting complaints, taking the reasonable needs of the customers into full consideration. Cui is now a leader of a team of 10 and is responsible for the work of allocating liability of complaints.
He Mengyuan, the customer service product manager of Meituan, said, "Customer service personnel cannot simply follow the regulations but must be flexible instead.
On the one hand, we must protect the interests of customers, whilst on the other, we should also safeguard the legitimate rights and interests of merchants and the take-away food delivery personnel."
(Source: People.cn/Translated and edited by Women of China)