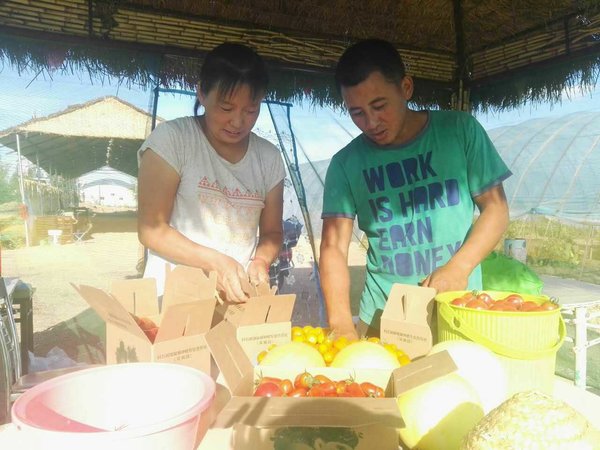 Qi Xiaojing packs fruits up. [nmwomen.org.cn]
A female entrepreneur from north China's Inner Mongolia has helped several villagers increase their incomes by cultivating edible fungi and establishing a local vegetable-growing cooperative.
Qi Xiaojing is from the Mongolian ethnic minority and was born in the village of Zhong'an, a former revolutionary base, where the hard-working and persevering spirit of people in the area has had a profound impact on her growth.
Qi was admitted to Inner Mongolia University of Science and Technology in 2004.
After borrowing from relatives and friends, her parents finally scraped together her tuition fee of 5,000 yuan before the first term began. Then, she applied for a student loan from the university.
She still had insufficient funds to meet her cost of living even though she studied hard and won a scholarship. She finally solved the problem by doing a part-time job in a supermarket.
In addition, she accumulated marketing experience which improved her ability to communicate with others and exercised her unyielding character.
The seeds of entrepreneurship have been rooted in the heart. She made up her mind that she will start her own business in the future.
Facing a stark choice in 2008, whether to be a civil servant or go home to start her own business, she chose the latter.
After four years there as a village official in Horqin, Qi eventually embarked on her own entrepreneurial path.
She found that the countryside was a good place to start a business and saw the importance of keeping a positive attitude.
After investigations, she mobilized her relatives and friends to start the cultivation of edible fungi.
In order to master the technique of edible fungus growing, she taught herself relevant techniques every night after working a whole day in the shed.
A month later, her first batch of mushrooms finally came out.
The strong woman cried with delight. Some 400 square meters of her edible fungi greenhouse helped earn an income of 40,000 yuan.
Since then, learning from other places, Qi began to develop a pick-your-own business which also achieved great economic benefits.
Then, through support from the government and other village officials, Qi invested 1 million yuan to set up a cooperative in 2014.
The cooperative has now recruited four college graduates and several farmers. 
She also started to sell vegetables online which saved time and energy and reduces costs. She use the internet to directly sell and deliver fresh fruits and vegetables to customers' home, which has solved the problem of low sales for vegetable growers.
The experience base for parents and children has since benefited 26 families.
"We plan to build a cooperative combining farming experience and catering. It will make full use of the advantages of suburban location, making the brand more famous and help ordinary people get rich," she said.
(Source: Youth/Translated and edited by Women of China)