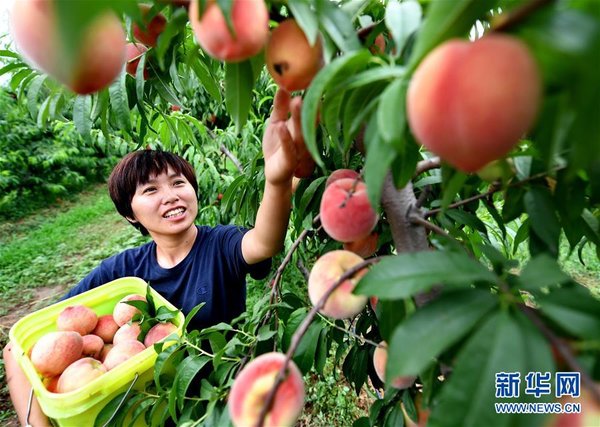 Jin Chao picks peaches in an orchard. [clady.cn]
Jin Chao, a graduate of Northwest Agriculture and Forestry University, launched a fruit-growing cooperative in 2012 to better manage her father's orchard in the Luannan County, north China's Hebei Province.
Jin took on 98.7 acres of land, with support from her father, and launched the cooperative mostly with peach and cherry trees.
Meanwhile, Jin cooperated with research and development institutions such as China Agricultural University and Hebei Institute of Pomology to get professional guidance from experts.
In the past few years, the cooperative has set up 65 acres of cherry orchards, 16.47 acres of pick-your-own orchards, 8.23 acres of vegetables and 8.23 acres of high-quality seedlings.
Her initiative has brought economic benefits and helped around 1,100 villagers increase their incomes, according to officials.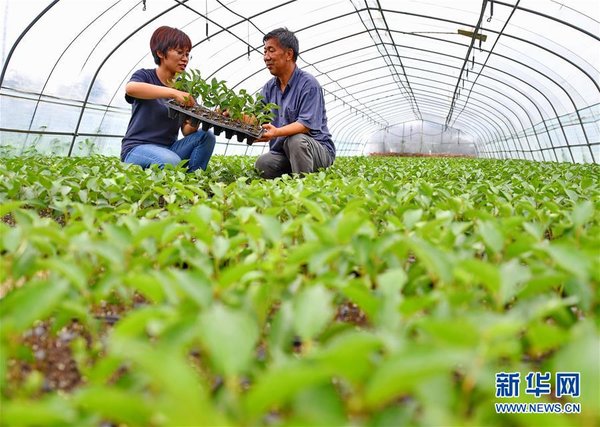 Jin Chao checks the growing conditions of cherry seedlings with her father. [clady.cn]
(Source: clady.cn/Translated and edited by Women of China)