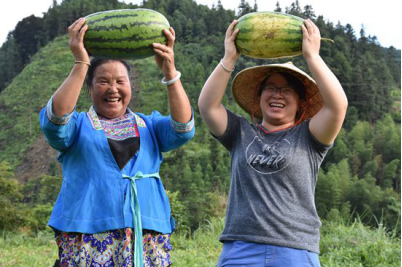 Yang Ning (L) [Cyol.com]
A college-graduate village official has committed herself to boosting the income of impoverished locals in south China's Guangxi Zhuang Autonomous Region through various entrepreneurial attempts in the past several years.
Yang Ning is a native of Jiangmen Village in the local Rongshui Miao Autonomous County. In 2010, she returned to her hometown upon graduation from Guangxi University with a degree in business administration.
By the end of the second term in October 2016, after serving for as long as six years in the village, Yang chose to stay on and became the head of Jiangmen Village Committee by standing in an election.
The decision was made in consideration of her aged grandmother, who needed to be looked after as both her parents went out to do part-time job, and in addition, it is also the aspiration of changing the sub-par and backward situation of the village that keeps her behind.
At the beginning of those days when she returned to work in the village committee, Yang once felt so frustrated to deal with chiefly trivial matters such as villager disputes that she even thought about leaving, fearing that there is no suitable work post to put to use what she had learned for four years in university.
However, she still turned down the invitations from her former classmates, who started businesses in the city, as well as the offers from bank branches, determined to make her impact on local economy.
Due to the remoteness of the location and the scarcity of information, the economic development of Jiangmen lagged behind. At that time, there were more than 200 households. The annual income of most families was less than 3,000 yuan. This was considered by Yang to be the most urgent problem.
Anchui County, which is abundant in bamboo resources, has advantages in developing its bamboo primary processing industry. Yang firstly led villagers to try out this field.
As it normally takes as long as seven or eight years for bamboos to grow, Yang also began other attempts to lead the villagers shake off poverty.
In 2014, Yang convinced one of her classmates who worked in Louzhou, with an aim to work together by reusing around three hectares of deserted fields in the village to plant spicy serrano peppers.
Because of its effectiveness and short harvest period, the chilies seem to have promising market prospect. To be on the safe side, Yang also signed a contract with a company in Liuzhou to ensure that she had their technical sales support, whilst she can concentrate on the field management.
However, due to the effect of the constant rain and high temperature exposure that year, the seedlings in the field began to rot. Crop failure resulted from the disaster cost Yang and her classmate a sum of 100,000 yuan each, much of which was obtained through credit.
After that, Yang intended to grow and develop glutinous rice, which was a unique variety that the local Miao people have passed down for thousands of years. By developing its cultivation, more than 60 local households have increased their income.
Inspired by a sales experience on the social media platform WeChat, Yang discovered a new channel to help villagers sell local specialty products.
With demand far exceeding supply, Yang contacted student village officials of several other areas and established the University-graduate Village Officials Entrepreneurship Alliance to sell all kinds of agricultural products such as mushroom and dried bamboo shoot.
Meanwhile, Yang also helped many of the elderly empty nesters in the village to apply for subsistence allowances, since many were illiterate. "It is perhaps a trivial matter for me to fill out a form for them, but it may turn out to be concrete help for the whole family. I feel that my work is meaningful and valuable."
After working in the village for seven years, Yang and her village committee colleagues have successfully helped 99 out of the 117 impoverished households in the village to get rid of poverty.
(Source: Dangjian.com/Translated and edited by Women of China)