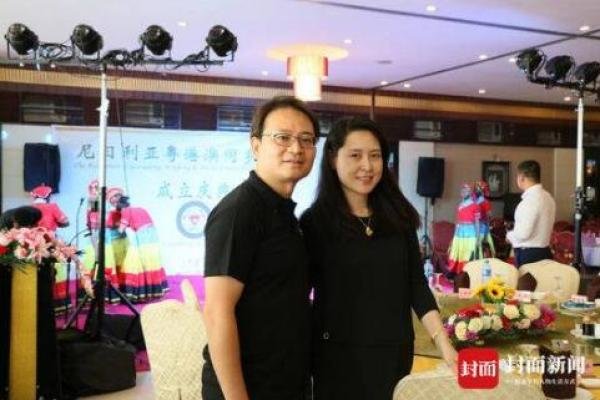 Lu takes a photo with her husband. [m.china.com.cn]

Lu Tingting, who is from southwest China's Sichuan Province, went to Africa to start up a business with her husband in the optical disk field 12 years ago.
12 years ago, Lu went to Lagos, Nigeria, a city just like south China's Shenzhen, to open an optical disk business.
Now, they have hired 150 local staff from Nigeria, with the plant area reaching 4,000 square meters, producing 8 million pieces of optical disks per month.
"I was not really scared before I went to Africa. I just followed my husband," Lu recalled.
Lu's husband, a Hong Kong native, was previously engaged in the production of optical disks. However, the market for optical disks has been shrinking in Hong Kong, so reform was the only choice for his company.
"At that time, we had many clients in Nigeria, and after many years' experiences and field visits, we had the plan to move our industry to Nigeria," Lu recalled.
In 2006, she and her husband resolutely decided to move their optical disk business to Nigeria.
China's sunset industry is now a sunrise industry in Africa. "Currently, the development of optical disks is still on the increase in Africa," Lu said to the reporter.
Furthermore, for Lu, Africa is not only a business market, but also a clean spiritual land. "I am always touched by the simple spirit of the local people," Lu added.
Meanwhile, Lu also paid a lot of attention to the film and television industry.
She said: "There is a popular film-production industry base in Nigeria called Nollywood. Most of the Nollywood films are produced in small workshops, with costs ranging from 15,000 to 25,000 U.S. dollars."
"These films will be finished within a few weeks at the earliest, and will be released on optical disks. Its production output occupies the third position only after Hollywood and Bollywood," Lu added.
For Chinese investors such as Lu Tingting, who are familiar with the African market, it is a huge cake full of potential opportunity.
"I have considered organizing a talent show in Nigeria, bringing the best singers to the Chinese stage," Lu said.
Starting up a business abroad will inevitably bring many difficulties, so Lu also wanted to provide some suggestions for enterprises and entrepreneurs.
She told reporters that water and electricity are problems that should be coped with to build a factory in a wasteland.
"My factory was developed in the west of Africa, but it encountered many obstacles in its early stages, especially regarding electricity and water," Lu said.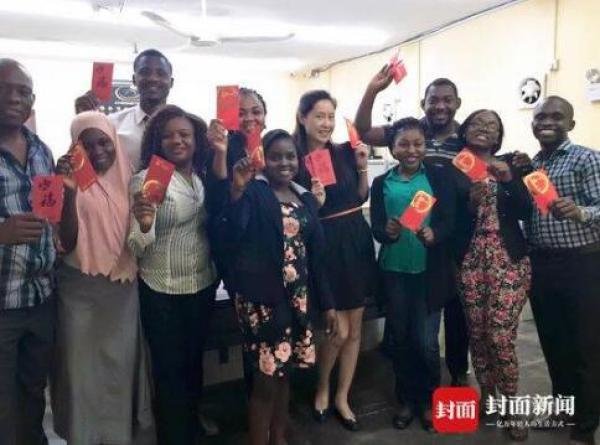 Lu takes a photo with her staff. [m.china.com.cn]
(Source: m.china.com.cn /Translated and edited by Women of China)