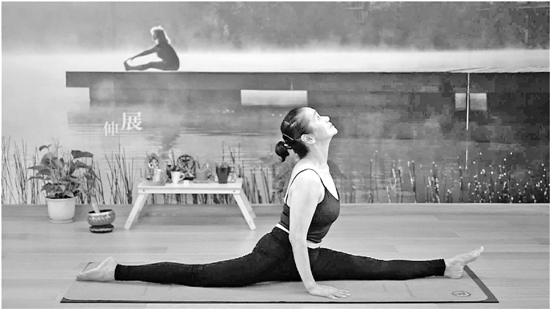 Na Yueer practices yoga. [ zjtyol.zjol.com.cn]
A 70-year-old retired grandma who became infatuated with yoga seven years ago has earned a certificate as a registered yoga teacher after 200 hours of training in Hangzhou, east China's Zhejiang Province.
Na Yueer lives in Liangchu, Hangzhou. She loves travelling and so far has been to over 40 countries since after her retirement.
Na completed her course in a yoga bar from July 9-August 10, and is qualified as part of a scheme run by U.S. Yoga Alliance.
The Alliance has two training certificates, including one for 200 hours, which has to be completed in a month. Except for weekends, she had to do 10 hours training a day at that time, Na says.
The final test is to select 10 movements among 200 and explain the action through a demonstration. Na became the eldest person to get the certificate at the yoga bar.
Na first learned about yoga when she visited her daughter in Malaysia. She learned from a yoga coach at that time and signed up for a five-year-training class after returning to Hangzhou.
Two years later, she became a top student in her class and was appointed as her coach's assistant.
Two years earlier, she moved to a senior apartment in Liangchu. Many elderly people expressed their wishes to learn from her after seeing her doing yoga. Therefore, Na opened a yoga course in her apartment.
Now there are around 30 to 40 people joining her class, which she leads regularly on Monday and Friday every week.
"Many of the students said that they would still learn from me even if I didn't have the certificate, whereas I think that a certificate is necessary to serve as a teacher," she says. "
"Practicing Yoga is not easy as people might think. Not all movements in yoga are fit for each person. For instance, if a person has a shoulder injury, she should avoid some greater range of movement in that part of the body."
Na had been on business trip to many places when she was young, which was not travelling for fun, therefore she decided to go on trips with her husband after retirement.
"I express a preference for do things that I'm interested in now, such as travelling or yoga," Na said.
(Source: zjtyol.zjol.com.cn/ Translated and edited by Women of China)