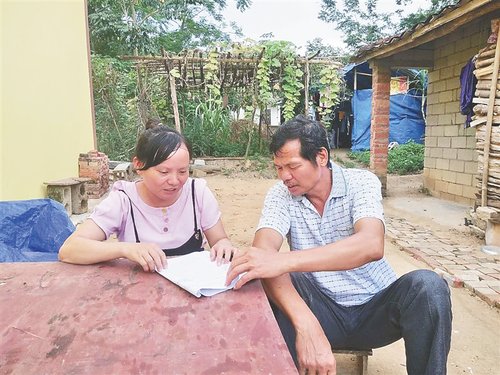 Deng Haihua (L) talks with an impoverished villager about his family's condition. [Provided by the interviewed]
A grassroots official has been fully committed to the building of new houses for impoverished families and the development of the local economy since she came to a small village in Qiongzhong Li and Miao Autonomous County, south China's Hainan Province, last spring.
Deng Haihua was appointed by Qiongzhong Commission of Health and Family Planning as the so-called "first village Party chief" in the village of Yaozai in Limushan Township in March 2017 in a move to better help local poverty-hit households work their way above the poverty line.
During an interview, Deng explained that she had had sufficient working experience at the grassroots level and was fully prepared for any unimaginable difficulties before her arrival at the village.
Deng continued that she has been firmly determined to press ahead with poverty reduction via concrete efforts from the start.
During her stay there, Deng usually got up early in the morning and managed to help local residents solve their affairs, which ranged from writing application forms for financial assistance in the restoration, rebuilding houses in poor conditions to contacting veterinarians when their sheep become sick.
Deng broke into a wide smile when a total of 128 poverty-hit households successfully moved into their rebuilt houses in this year's Spring Festival, or traditional Chinese lunar New Year.
Thanks to the efforts of Deng and other local officials, 112 impoverished families have lifted themselves out of poverty. Meanwhile, the rest of the poverty-stricken households are set to follow suit at the end of this year.
Speaking about how to further help 16 target families, Deng noted that it is of great importance to build their confidence in poverty alleviation and encourage them to join local cooperatives with featured businesses.
So far, the village has already set up four professional cooperatives, which covers the cultivation of edible mushrooms, pigeons, porcupines and silkworms. Each contracted family is expected to receive an annual dividend of over 3,000 yuan from their business operations.
Deng disclosed in a recent interview that her heart is still with local residents and will closely monitor the progress of their poverty reduction, though she was forced to temporarily quit her post at the village two months ago due to health problems.
(Source: hnrb.hinews.cn/Translated and edited by Women of China)