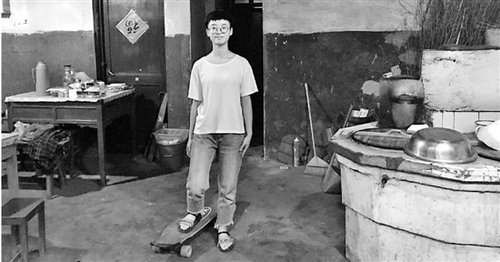 Chen Jingjing stands on a skateboard in her room. [Women Voice]
Chen Jingjing, a girl from Qingtian, east China's Zhejiang province, won an admission letter to Zhejiang University of Technology with a high score in college entrance exam this summer.
With short-hair and a pair of glasses, this 18-year-old girl looks like a tomboy.
In a small room with dim light, an old table was set in the middle, with a pitch-dark cooking bench next to it. That was Chen's home.
Hardship
Though a little bit shabby, Chen and her grandma, the only residents of the house, hospitably greeted the reporters. Chen's parents were not present.
When speaking of her father, Chen burst into tears and said, "I choose to forget those miserable days."
Before the age of seven, Chen had an ordinary happy family. Her father worked in the county's scenic areas, and loved her dearly. He often took her out on a bike and listened patiently to Chen' s funny stories.
One day, Chen waited for her father as usual, but he never came back.
"I was too young and nobody told me that there had been traffic accident," Chen said.
She said to herself, "Daddy will come back; he just went on a long journey, but he will come back."
The loneliness of losing her father increased with time.
"My grandma and my mum would never mention it, and I was afraid to ask about it," Chen said.
At night, Chen buried herself in her father's clothes, recollecting the memories of her beloved father.
Without a source of income, her mother had to find a job in another place, leaving Chen and her ailing grandma behind in the hometown.
"My mum sent us some money each month to cover our living costs, and that was our only source of income. At the same time, grandma had to take medicine regularly, so we were in need of money for a long time."
Chen's mother has been working outside for more than 10 years. She said that Chen is her sunshine and brings her hope.
Every Sunday night, Chen calls her mother.
Her mother knew that Chen must feel lonely and wronged. However, Chen never mentioned about that. Instead, she would often talk about interesting and funny news at school in an amusing way.
"Whenever I heard Jingjing say, 'Mum, I love you', it picked up my confidence and gave me courage again," said her mother.
Skateboard
Though life is quite tough for her, Chen upholds her optimism.
In school, she shares meals with several other friends, but she does not take this as suffering. "We bought a couple of meat dishes and vegetable dishes, and share among several of us. In this way we can enjoy more dishes," Chen said.
Her uniform in school is an old T-shirt and a pair of worn jeans. Chen told her mother, "You don' t need to buy any new clothes for me."
Chen performed excellently in her academics and was the monitor of her class.
She said senior high school days were her favorite, and she enjoys study as well as her hobbies.
When talking about skateboarding, Chen's face brightens up. She saved for half a year and bought herself her first skateboard.
"I love skateboarding with friends, I enjoy the high speed. In Douyin, a hot micro-video app, I saw people with amazing skills, like circling on the board, so I would practice it secretly. Of course, I fell down quite a few times!"
The village roads are her skateboarding ground. When she steps on the skateboard, Chen shows off her skills with a smile, sweetly and hopefully.
Chen got along well with others and was a monitor in her class.
"I didn't like to be strict with classmates. Besides, I didn't have any secrets in study, and I enjoyed learning from others."
"Poverty does not make me desperate. I shall work harder, laugh harder, ready to help others and always be courageous in pursuing my dreams," Chen wrote in her diary and made it so in real life.
(Source: Women Voice/Translated and edited by Women of China)