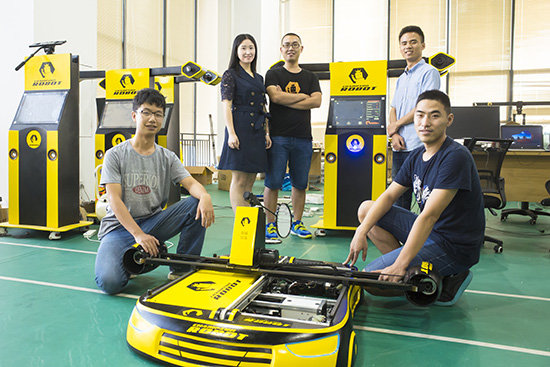 Huang Shan, founder of Chengdu Eventec Technology Co., Ltd., and her team members
Huang Shan, founder of Chengdu Eventec Technology Co. Ltd., recently led her team to participate in the China College Students' Entrepreneurship Competition, which was held by Zhejiang University.
The main product of her company is an intelligent service robot.
"To participate in such a competition is the cheapest way for college students to find an opportunity," said Huang.
Huang graduated from the University of Electronic Science and Technology of China, based in Chengdu, southwest China's Sichuan Province. She actively participated in various activities on campus.
She wrote business plans for various competitions, along with her classmates, and has won many awards in her freshman and sophomore years in college.
"At that time, college students didn't really have a good understanding of their interests and career plans. And we wouldn't know what we truly wanted to do and what we were capable of doing without receiving guidance from a good platform," she said.
After numerous attempts, Huang built a team with her classmates and started to establish her machinery equipment manufacturing business in 2015.
Soon afterwards, her team developed a robot that could play badminton with people. Premier Li Keqiang gave high praise to the robot in April 2016.
After domestic and foreign media reported on her company, Huang received various orders from stadiums, private enterprises, science and technology museums, among others.
"Without becoming aware that we could make full use of various policies the school and nation provided, we merely concentrated on producing and selling products," Huang said.
Towards the end of 2017, she came up with the idea of developing a robot that could sell goods. An investor was interested and gave her financial support. Shortly afterwards, "vendor robots" came into being.
The robot was first put on trail at the library of her university, and the wide attention drawn by "vendor robots" verified their practicability.
Her experience in competitions from her freshman to doctoral years changed her from a student to a businesswoman.
"The judges won't treat you differently just because you're a student. They're more concerned about your business logic and revenue," she said.
Huang said straightforwardly that she didn't give much thought to the result of the competitions. According to her, "It is an attempt at the lowest cost", as she has learned correct and successful logic from other contestants during the competitions, thereby setting her to rectify the defects and improve her own products.
Huang attributed her success to the guidance and support of policies.
"It's hard for twenty-somethings to find the right way to move forward. Competitions encourage us by providing an opportunity and platform for us. During the process, we can find something we really like and the most appropriate way to implement the necessary technical transformation," she added.
(Source: Cyol.com/Translated and edited by Women of China)