Zhu Yunyi [Photo/People's Daily]
Three graduates, Zhu Yunyi, Shen Weiyi and Tan Keyu, have each returned to China after studying at universities abroad and started up their own early childhood educational businesses.
Zhu graduated from Harvard Kennedy School. She co-founded BOXFiSH, an online English learning platform, in 2012 in Beijing.
BOXFiSH was first designed to target older students, but now their main focus is preschool children, as an increasing number of Chinese parents are paying attention to early education.
Zhu wanted to help more children enjoy learning English. Her software includes a unique interaction system to encourage and protect users' confidence at the same time.
For example, instead of displaying an error message when a child pronounces an English word incorrectly, the system presents a cute image on the screen and asks them to repeat it.
"Every child can learn well. Education means to love and encourage," said Zhu.
How to motivate children when they encounter obstacles and how to instruct them to undertake their due obligations when they make mistakes are the core issues the early childhood education industry should consider, according to Zhu.
Shen, who graduated from a university in Singapore, joined High-Five swimming club as a franchisee in June in Shenyang, northeast China's Liaoning Province.
The club is part of a global swimming education chain. When Shen studied in Singapore, the warm climate and outdoors swimming pools inspired her.
"Locals often swim with their children in Singapore. Swimming benefits them a lot. I hoped I can create such a positive growth environment for my child," she said.
Shen likes children, so when she returned home from Singapore in 2014, she got married and quickly started a family.
"We added games into our swimming courses and this is called 'early education in water'," she added.
Tan graduated from Brunel University in London. Later, she set up a Lego education school in Shenzhen, south China's Guangdong Province.
Tan hopes children can develop their imagination and creativity with these colorful toy blocks.
"The youngest student at our school is just two. Children create things while playing."
"The integration and creation of different educational ideas benefited me the most whilst I was studying abroad", said Shen.
The three overseas returnees all agreed that their international perspective has been helpful in starting their businesses.
They believe that the educational ideas they brought back from overseas can be integrated with Chinese traditional culture, social and family values for long-term development.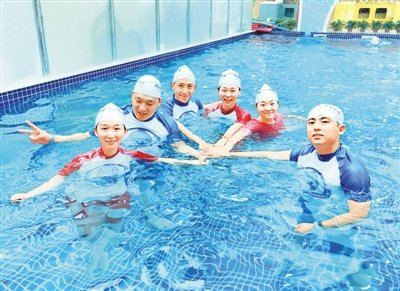 Shen Weiyi (L1) [Photo/People's Daily]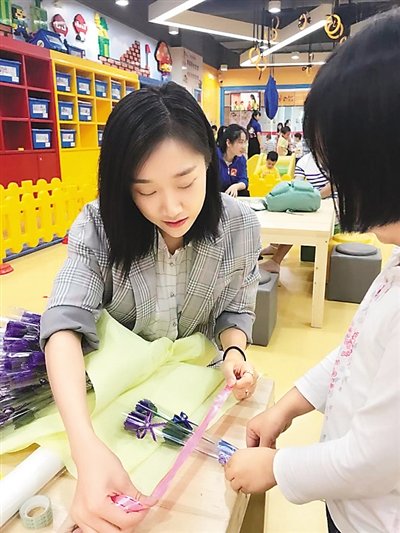 Tan Keyu [Photo/People's Daily]
(Source: People's Daily Overseas Edition /Translated and edited by Women of China)