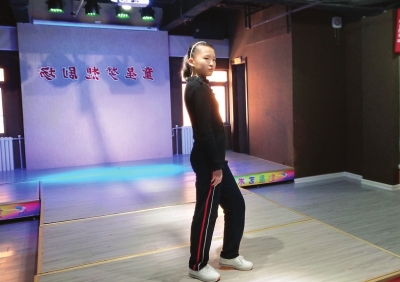 Huang Liyuan appears on the catwalk. [Lanzhou Evening News]
A middle school girl from Lanzhou, northwest China's Gansu Province, has excelled academically in class and made herself versatile in spite of being partially-sighted.
Huang Liyuan, 13, was born with a genetic disorder of the eyes that causes loss of vision.
Owing to her "tunnel vision", she can hardly see the words in textbooks or on the blackboard, so she learns mainly by way of listening.
Nonetheless, she still stands out from her classmates.
Huang's excellent performance can be largely attributed to the help of her beloved mother. Since she entered kindergarten, her mother would read aloud for her to keep the learning materials fresh in her mind.
If her homework is about geometry, her mother would always draw magnified diagrams onto paper for her.
Her mother's efforts have paid off. Huang has developed a strong memory which contributes to her high ranking in class.
Huang is also versatile. She is good at making speech in public, according to Cui Ling, director of the political education department of the school.
Apart from academic study, Huang also takes evening and weekend lessons on art, singing and model training.
Thanks to her mother's help plus her own effort, Huang has hosted the Spring Festival Gala for Children in Gansu for four years in a row. She won the second prize at the Asian Children Talent Competition in Gansu province.
She has even played in short films produced by children's channel of Gansu TV, such as You Are My Eyes and I Love G-series High-speed Train.
When watching TV, she always imitates the way actresses speak to make preparations for her dream of becoming a dubbing artist.
As a volunteer, she has performed in schools for orphans and nursing homes many times and her good deeds have earned her quite a number of honorary titles.
Her mother is worried that with the increase of her daughter's academic burden, she will have more problems with writing, especially in exams. Though she hopes her daughter can receive a college education, she does not deem it as an easy task.
Therefore, she thinks it might be a good choice for her daughter to develop towards the arts.
(Source: Lanzhou Evening News/Translated and edited by Women of China)