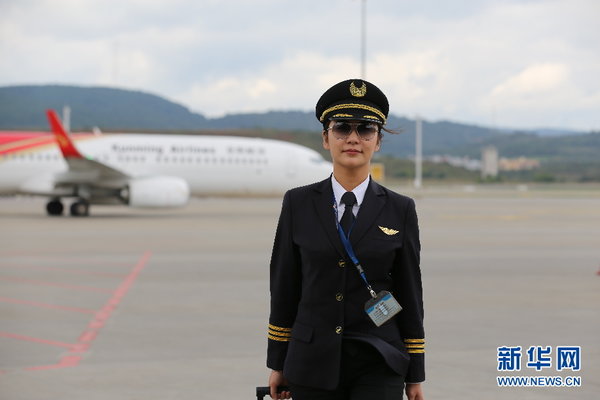 Li Lin [Xinhua]
A female Kunming Airlines pilot who works in southwest China's Yunnan gained much attention from the public earlier this year after she starred in a promotional video for her province.
Li Lin used to be an airline stewardess. At 19, she left her northeastern hometown in Harbin, Heilongjiang Province, to work in east China's Shandong Province.
Six years later, she transferred to a company in Macao and continued to work as a flight attendant for three years.
In 2008, affected by the financial crisis, her company faced the risk of bankruptcy, and Li felt an unprecedented dilemma.
"At that time, some of my male colleagues chose to switch to being pilots. I thought 'Why not give it a try?'" Li recalled.
At the aviation school, Li was challenged by her first English class. "There were 70 new words which are all complicated. The English I had learned before was completely unhelpful," Li said.
Compared with the strenuous theoretical class, the practical class involved dozens of dashboards and hundreds of buttons that needed to be remembered in a small cockpit.
"It was difficult to learn to fly. But I made up my mind and spared no effort to achieve my goal," Li said.
After two years of hard work, Li successfully passed the assessment and entered Kunming Airlines in 2012 where she is currently a co-pilot. So far, Li has flown 3,000 hours.
Over the past seven years, the most memorable thing for her was a flight from Tianjin to Kunming in early 2014.
The weather was changing so fast that no sooner had the plane taken off than it was caught in a strong thunderstorm and the whole plane jolted violently.
"It went 200 feet up and down. It's like the moment you stepped into an elevator, you were already sent up to the 20th floor before you pressed the button!" Li recalled.
At the time, people screamed in the cabin, but in the cockpit they remained calm. After 10 seconds of emergency operations, the plane successfully emerged from the storm.
"Being a pilot requires not only outstanding professional skills, but also a strong sense of responsibility and the ability to work well under pressure," Li said.
Since she joined Kunming Airlines, Li has felt the increasing pace of development and opening up of Yunnan and the consequent rapid development of its aviation industry.
"When I first came here, there were only about 70 pilots in the company. Now there are nearly 200," Li said.
At the same time, the number of female pilots has also increased. "In 2012, there were no female pilots in Yunnan. It seems that there are over 10 now. Each major aviation school also has a special quota every year to recruit and train females," Li explained.
Li has been preparing for the captain qualification exam this year. She said, "Being a pilot requires you to constantly learn and improve yourself. I believe becoming a captain is every pilot's dream."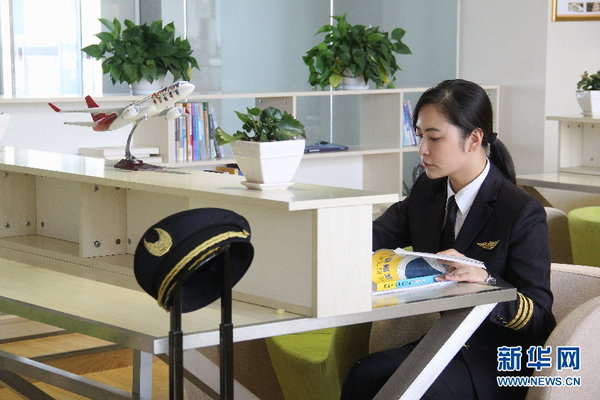 Li Lin prepares for the captain's test. [Xinhua]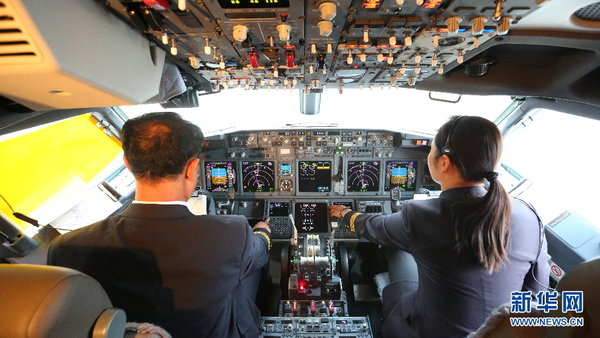 In the cockpit, Li Lin (right) and the captain of the flight make preparations for departure. [Xinhua]
(Source: Xinhua/Translated and edited by Women of China)