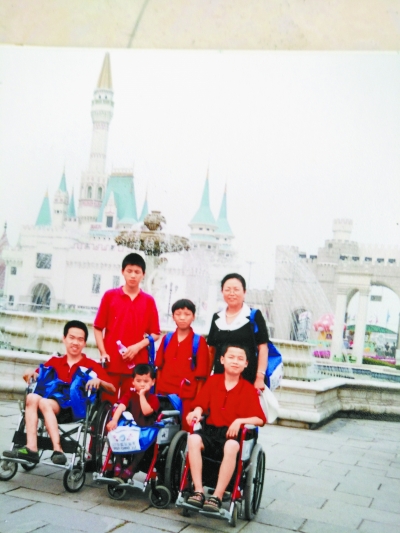 Wang Lijuan (R) visits World Park in Beijing together with children. [Beijing Evening News]
A senior principal from Beijing has run a special education training school for mentally disabled students over the past 20 years to help them gain a foothold in society and live with dignity as others do.
Wang Lijuan has helped over 1,000 students by way of running the school.
Wang was originally a Chinese teacher who taught both in middle school and college. She even served as a visiting scholar abroad in the 90s.
Her educational career was changed in 1997 when she returned to China to renew her visa.
Before going through the formalities of visa renewal, she went to a disabled persons' federation entrusted by a friend and met a group of mentally disabled students there.
Out of career sensitivity, she inquired the students' teacher about their education and learnt that only a few people paid attention to their education aside from the special education school.
The next day, she went to the city's education commission to search for information about such schools, only to find that most of them just attached importance to courses on general knowledge.
"Even after the students with mental disabilities receive nine years of compulsory education, their intelligence is still the same as students without disabilities in Grade 2 and 3. Moreover, many children are unwilling to leave the school after graduation," Wang recalled the remarks from a principal in a local school for children with intellectual impairment.
What she had seen and heard motivated her to open a vocational school for exceptional students.
"These students will not excel beyond students without disabilities, so what matters is to give full play to their strengths and avoid their shortcomings," said Wang.
To put her idea into practice, Wang gave up the opportunity to reunite with her son in Atlanta, America, where she had been offered a good job opportunity.
Inevitably, Wang encountered many problems in running the school.
Her first batch of graduates found jobs smoothly. In 2008, however, they were laid-off due to the financial crisis.
To help them, Wang sold her house and put all her money into a factory which offers job opportunities to those disabled, but this left her with nowhere to live. Seeing that there was some space in a sheep pen, she put up a makeshift house and stayed there for 10 years.
The house was so gloomy and cold that it seriously influenced her health. She itched all over and had pain in her joints.
Instead of caring about her own situation, she thought more about how to keep the teachers of the school, who earned just 1,000 yuan, a sum of money which could hardly cover their food and clothing in Beijing.
To increase the teachers' salary, she often made speeches that could bring her additional income and in this way she managed to increase the teachers' monthly income to 3,000 yuan.
She moved her school for seven times since its establishment in June 1998, as she couldn't afford the rent.
However, the school has made achievements in spite of these problems.
In September 1998, when several Japanese journalists came to the school for an interview, they shed tears which bewildered Wang, who later understood that they were touched by China's act of treating students with mental disabilities equally.
Wang is glad that most of the graduates of this school have secured themselves decent jobs. Some of them serve as security guards in communities and some others work for the warehouses of supermarkets.
With age, Wang has had the plan to pass down her work to younger people for a long time. Nonetheless, she knows she cannot retire now because the school needs to be improved in many areas.
"My biggest goal is to refine relevant systems, including students' education and the care of their parents. Some of the students' parents are old and in poor health. If a parent dies, the other one will find it hard to secure a place in the nursing home with a mentally disabled child," said Wang.
"It is therefore necessary for them to learn how to take care of their parents and practice early intervention rehabilitation," Wang continued.
To better run the school, Wang has earned many certificates, such as a psychological counselor certificate and rehabilitation expert certificate.
"I want to better combine school education with rehabilitation. While ordinary schools are put in charge of the nine-year compulsory education, I mainly offer vocational training to exceptional students after their graduation," Wang explained.
Wang has a bold idea — to introduce her successful experience of running special education school throughout China. If that is the case, exceptional students will have access to such a school in their local areas.
By then, Wang thinks she can retire without any worry and enjoy her twilight years.
(Source: Beijing Evening News/Translated and edited by Women of China)