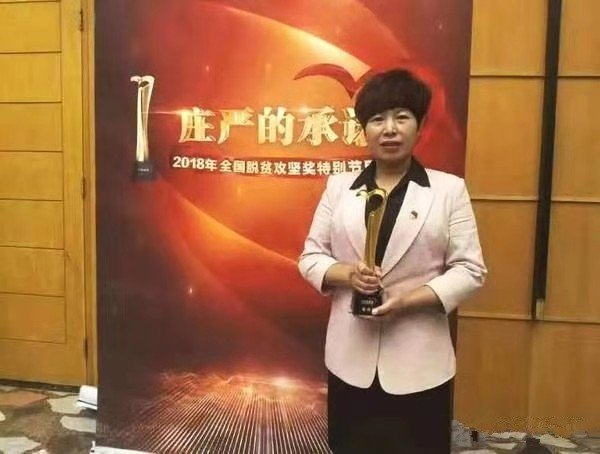 Wang Xiling [xfrb.com.cn]
Wang Xiling, from Fufeng County in northwest China's Shaanxi province, has helped many people in her community shake off poverty in recent years by developing a seedling-growing cooperative.
In 2001, Wang was diagnosed with cancer and used all of her and her husband's savings for an operation. To cover her medical expenses, they even sold all the 200 pigs the family had raised. Still, the couple were left with more than 100,000 yuan in debts.
To make it worse, her husband died in a car crash. At a time when she was feeling helpless and hopeless, her family was registered as poverty-stricken household.
She appreciated the assistance of the Party and the government to help her pull through. However, she still had to rely on herself to improve her circumstances.
Wang found many poverty-stricken households had shaken off poverty by growing seedlings. She thought it was a good idea.  
"Tens of thousands of seedlings can be grown per mu. The profit can exceed over 20,000 yuan. My first priority was to repay the debt," said Wang.
Poverty alleviation officials helped her to obtain a loan of 80,000 yuan at a low interest rate. Wang planted seedlings of lacebark pine and cherry trees in five mu of land that she contracted.
It was not easy to plant seedlings; carrying out the physical tasks such as watering and laying fertilizer was quite challenging for her.
Whilst Wang wanted to pay off the debts as soon as possible, it takes time for seedlings to grow.
She found an increasing number of local farmers were planted seedlings, too. Wang tried to be an agent to help find more sales channels and increase her income.
In the eyes of ordinary people, being an agent was a job that was usually reserved for men, since it was required to ride a motorbike every day to find customers.
"Once I fell off my motorcycle and my hands and two of my front teeth broke," she said.
Slowly, her good reputation brought her increasing numbers of orders.
Once the order was taken, Wang would deliver the seedlings to customers no matter what happened, which won her the trust of many customers.
In 2014, Wang and several villagers set up a professional seedling-growing cooperative and 43 poverty-stricken households joined in.
Zhou Shengru, one of the partners in the cooperative, is in charge of seedling transportation from adjacent counties to far-off cities. She earns almost 20,000 yuan per month.
In addition to leading villagers to plant seedlings, the cooperative has also helped 30 households to shake off poverty by pooling capital and land as shares and offering them work at a base.
In November 2016, Wang paid off her debts and submitted an application to the village committee to be withdrawn from the poverty-stricken household list.
She was the first person in her county to take the initiative to withdraw from the list.
Now, Wang has built a new house, bought a car and contracted 200 mu of land to cultivate seedlings.
"I plan to sell seedlings by developing e-commerce and keeping pace with the times," she concluded.
(Source: Xinhua/Translated and edited by Women of China)