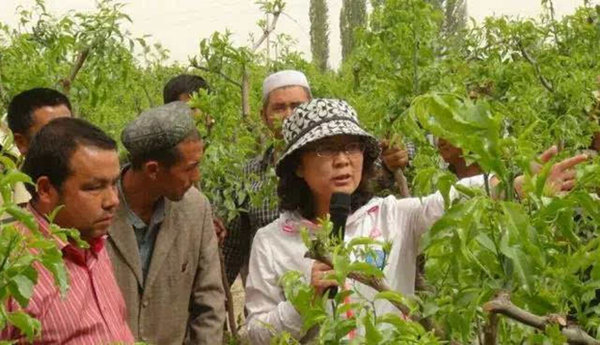 Wu Cuiyun observes and analyzes the jujube trees. [news.cctv.com]
Wu Cuiyun, a professor at the College of Plant Science and Technology, Tarim University, Alar City, northwest China's
Xinjiang Uygur Autonomous Region
, has devoted herself to helping the locals shake off poverty with her scientific research achievements.

Wu's parents came to Xinjiang in 1962 to assist in the construction of the northwest border areas of the country. Wu grew up in Hetian, southern Xinjiang.
In 1990, under the influence of her parents as well as the first generation of teachers at her university, Wu chose to become a teacher at her alma mater upon graduation from the Fruits and Forests Department of
Tarim University
.

In recent years, jujube planting has become a pillar industry for the local people of southern Xinjiang to get rid of poverty. And it has always been her research objective to breed and select a fine quality jujube variety for the locals in southern Xinjiang.

Towards this goal, Wu, along with her research team, has spent two years searching for such a new variety in all the main jujube producing areas in southern Xinjiang.

They finally found 5 varieties of excellent single mutant plants of jujube and chose one of them to conduct main breeding and selection after comparison and observation.

It took Wu and her research team as long as 6 years to breed and select a fine-quality new variety from the ordinary jujubes. The new variety is one-third larger than the ordinary jujube, and the sugar content is slightly higher than the ordinary one, which can reach 35 percent.

Furthermore, its color is purer.

"I hope the superior variety can help the locals in southern Xinjiang shake off poverty," she said.

Wu began to devote herself to the agricultural research service in southern Xinjiang after finishing her visit in New Zealand in 2008.

As a scientific special commissioner, she has led many technology service teams to help local farmers throughout southern Xinjiang.

Wu and other scientific researchers cultivated a group of grassroots scientific and technical personnel, improved the breeding skills of jujube planting, and helped farmers to increase their incomes.

"It was my personal preference and the recognition from farmers that contributed to the achievements in my career. I found and realized my own value in the process of providing scientific research service. I am really proud of what I am doing," said Wu.

Hao Zhimin, a farmer from the farm of Alar City, has planted jujubes in his own fields since 2011. Once he found the abnormal conditions of leaves on the jujube trees in his fields and turned to Professor Wu for help.
Without delay, Wu, together with plant nutrition experts and plant protection specialists, came over to observe and analyze the jujube trees.

Finally, it was found that something went wrong with the content of trace elements in the soil samples.

"I had intended to give up, as the income of the fruit forest planting has been very low. With the guidance of Professor Wu, I've now regained confidence," said Hao emotionally.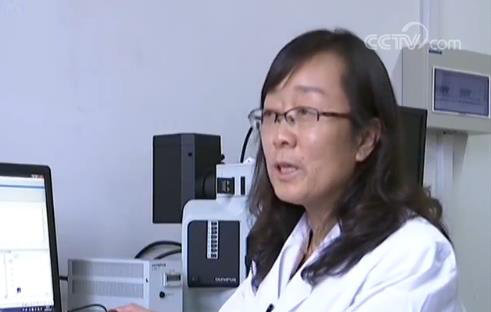 Wu Cuiyun [news.cctv.com]