Wu Xutao interacts with students on campus. [Fujian Daily]
A procurator from Longyan, southeast China's Fujian Province, has shone at work over the past decade, according to a recent profile.
Wu Xutao joined the procuratorate of Changting, a county in Longyuan, in 2008 after her graduation from college. Five years later, she was appointed to work in the procuratorate in Longyan by virtue of her outstanding work ability.
Whenever she gets a case, she will try her best to complete it with high quality. Over the past 10 years, she has handled over 300 cases without making any mistakes. Her active attitude towards work and high efficiency has earned her high praise from her colleagues and leaders.
On October 1, 2012, a serious car accident occurred in Daoliushui Village in Longyan, which left four people dead and five people injured. Wu was assigned to handle this case, which drew wide attention from society.
To settle the case, she studied the files day and night, visited the victims' relatives frequently and listened to advice from the defender. Ten days later, she filed a lawsuit for a crime against public security.
One year later, the driver surnamed Lu was sentenced to seven years in jail for committing the crime of causing traffic casualties.
However, the victims' relatives were unsatisfied with the sentence, thinking that seven years was too light for a drunk driver without a driving license. They appealed against the judgment, demanding a more severe punishment for the driver.
To ensure fairness and justice, Wu burned the midnight oil preparing a protest reply and sent the reply to the victims' relatives the next day. To improve their rate of success, she referred to lots of similar cases, which she submitted to the judges of the province for reference.
Thanks to her efforts, the sentence was changed. In June 2014, Lu was sentenced to life imprisonment.
In 2016, this case was rated as an outstanding case of criminal protest against a verdict by a national procuratorial organ.
At the end of 2016, Wu's work content was changed. She was assigned to take charge of procuratorial work for minors.
To perform well in this new field, she quickly adjusted her work model by referring to professional materials, studying through visits and conducting surveys at the grassroots level.
Longyan is an old revolutionary base that abounds in revolutionary culture and Hakka cultural resources. Drawing on these strengths, Wu combined laws and regulations with revolutionary spirit and traditional rules of family to educate minors involved in the cases.
She also volunteered to play a role in parental education to help minors establish the correct values.
Her working method of combining the rule of law with the rule of virtue set a good example for the procuratorial work for minors in the city.
At the end of 2016, she spent one week writing a rhyme to popularize the law among minors to reduce juvenile delinquency. It has become one of the education materials adopted by the province in its procuratorial work for minors.
In addition, she directed music videos to present her work in front of the public in a more concrete and vivid way.
"Whenever I handle cases about juvenile delinquency, I hope I can help the youth in my own way so that I might be able to save not only a young person, but also a family," said Wu.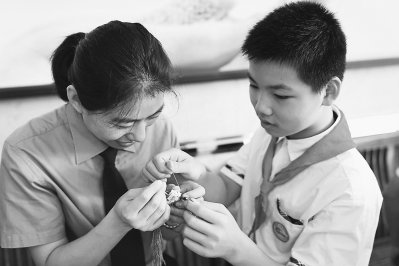 Wu Xutao interacts with a boy. [Fujian Daily]
(Source: Fujian Daily/Translated and edited by Women of China)