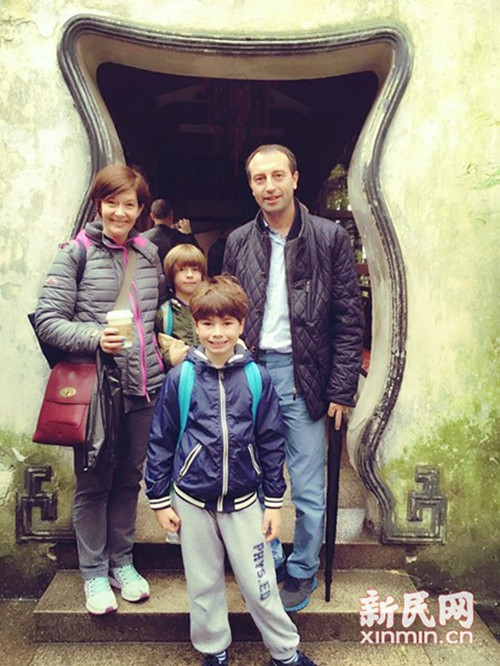 Vanessa Szucs Hussain (left) poses for a family photo with her husband Ahmed (right) and two boys in Shanghai's Yu Garden. [xinmin.cn]
British head teacher Vanessa Szucs-Hussain recently opened a bilingual kindergarten in Shanghai. She and her family are determined to draw on her extensive knowledge, experience and unique background to bring UK-style early education to China.
The Family Makes Shanghai as Their Destination
Szucs-Hussain has been involved in children's development for over 20 years. Early on, she studied pediatric medicine in the UK. Later, she took a course in children's education and management in Abu Dhabi.
She and her husband Ahmed, together with their two boys, and two cats named Shadow and Pickle respectively, moved to Shanghai in December 2014.
As the family had become accustomed to the dry and hot climate of the Middle East, they were surprised to find that Shanghai was cool in temperature. They soon enjoyed its international atmosphere at a Christmas market. Furthermore, the freshness of the new city appealed to them.
Since then, the family say they fell in love with life in Shanghai and decided to make it their home.
Shanghai-UK Wellington College Bilingual Kindergarten
Under the motto of "A Proud Tradition and Education for the Future," Szucs-Hussain opened her local school affiliated to the UK's Wellington College, which has a long renowned history of over 150 years.
The headmistress always arrives at the school at 7:45 a.m. and makes a tour of each class, greeting people around her. She believes that children's early education can only achieve success with a trusted setting and faithfully shared vision between teachers and parents.
To develop children's language ability, she recommends that children should be immersed in a bilingual environment.
The headmaster summarized her major educational philosophies as: children should be allowed to be children; they have a right to sing, laugh, dance, get messy, explore, discover, create and be listened to; most importantly, they should be valued, treasured and supported throughout their formative years.
She says her best moments are when children come to hug her and share their daily stories.
Instead of the common sight in most of China's kindergartens whereby children are accompanied by their parents or grandparents to school gates, she suggests letting them walk to school by themselves, as the very first step to develop their independence and personality.
Meanwhile, the headmaster is looking forward a better future both for the family and her students.
The headmistress looks at colored balloons with a young boy. [xinmin.cn]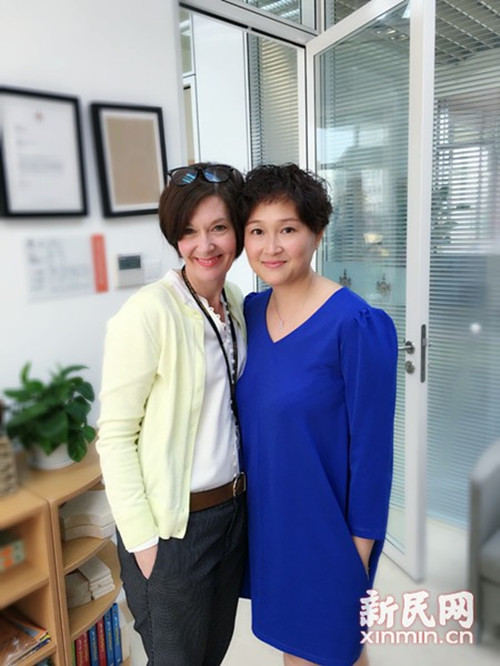 Vanessa (left) smiles with her friend in the Wellington College Bilingual Kindergarten in Shanghai. [xinmin.cn]
(Source: Xinmin Evening News /Translated and edited by Women of China)