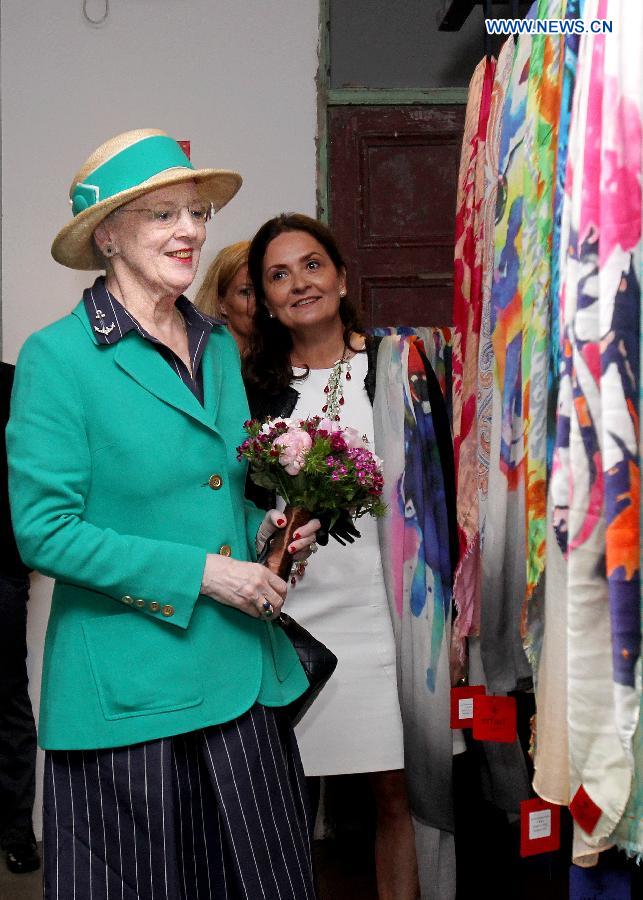 Queen Margrethe II of Denmark (left) visits an exhibition of pop-up stores in Shanghai on April 28, 2014. [Xinhua/Liu Ying]
Danish Queen Margrethe II, who paid a state visit to China on April 24-28, 2014, at the invitation of Chinese President Xi Jinping, is quite familiar with China.
Born on April 16, 1940, Queen Margrethe II is one of only two female monarchs in the present-day world, with the other being Queen Elizabeth II of the United Kingdom.
As the eldest child of King Frederik IX (1899-1972) and Princess Ingrid of Sweden (1910-2000), Margrethe became heiress presumptive in 1953 and inherited the throne from her father on his death on January 14, 1972, marking the second female monarch in the history of Denmark.
Queen Margrethe II isn't out of reach like those in fairy tales, but the 74-year-old queen is quite close to civilians. As reported, many locals see the royal queen dressed in casual clothes buying vegetables with a basket in the street.
To the Chinese, the more important reason for her geniality is that she visited China as early as 35 years ago. "When I paid my first visit to China, everything was brand new to me. What made a deep impression on me were the tourist attractions I travelled around, for example, the Forbidden City and the Great Wall. They are really beautiful," said Margrethe on her recent interview with The Beijing News.
In September 1979 Margrethe made a state visit to China as the first Western head of state to do so after China adopted the reform and opening-up policy. She showed great interest in China's culture and history, ancient architecture and unearthed cultural relics.
Despite the fatigue of a long journey, Margrethe and her husband, Henri de Laborde de Monpezat, a French diplomat who took the title of Prince Henrik after their marriage in June 1967, went to Beijing's Liulichang Culture Street to appreciate paintings and calligraphy at Rongbaozhai Studio, the best-known antique shop in this street, as well as browsing porcelain and treasures in other antique shops.
China has been a huge attraction to Margrethe. "I have also read a number of Chinese books and movies. I have always liked Chinese art, such as Chinese porcelain and poetry. They are indeed very beautiful," she said.
Margrethe has shown many talents in addition to archaeology. She is an accomplished painter and stage designer. Besides her mother tongue, she can speak French, Swedish, English and German.
By comparison, Margrethe's husband Prince Henrik is more familiar with China, known as 'Mr. China,' who likes Chinese cuisine and culture very much. He often visits China, almost once every other year.
The royal couple's two sons, Crown Prince Frederik and Prince Joachim, often visit China, too.
"They have told me a lot of interesting stories. In addition, many of my friends have also travelled to China many times. Thus, I have always heard of news about China, indeed very interesting," said Margrethe.
"In fact, my husband and I have been looking forward to this visit, especially Chinese cuisine. Both of us like eating Chinese food," added Margrethe.
From April 24-28, 2014, the royal couple travelled to five Chinese cities, including Beijing, Nanjing, Suzhou, Jiaxing and Shanghai.
Queen Margrethe II, on her second trip to China since 1979, lauded the friendship between the two peoples, saying she believes both countries would see sustained growth of their cooperation.
(Source: Shanghai Morning Post/Translated and edited by Women of China)