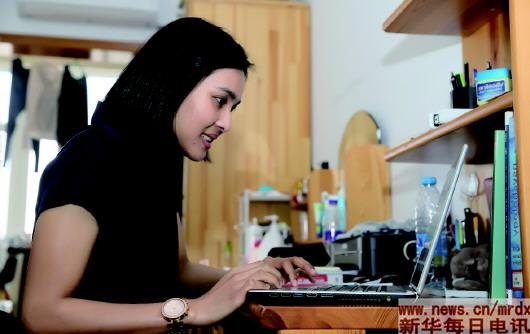 Lejin, a Thai student, looks up information with a computer in her dorm. [news.cn/mrdx]
A Thai student who is studying at Northwest A&F University in northwest China's Shaanxi Province, says her ambition is to get more Chinese people to eat cheap and high-quality rice from her home country.
The woman, Lejin, began to learn Mandarin in middle school in her home country. After graduating from college in 2014, she chose to leave for China for further study.
"China is a starter of the Belt and Road Initiative. In my heart, it is a place full of opportunities."
Three years' study has helped her improve her Chinese greatly and given her an in-depth understanding of the agricultural situations in the two nations, she said.
In several months she graduates. Her master's thesis is related to the agricultural duty-free policies of the China and Thailand Free Trade Agreement.
In the course of preparing for her thesis, the woman stated she gradually understood a clear direction for her future development.
"Thai rice is of superior quality, which always makes it popular with consumers in China. However, its sales price in local supermarkets is relatively high, which makes it lose many potential consumers."
She believes that Thai rice' sales price in China can be lowered by 20 percent through the duty-free policies.
Zheng Fenli, dean of the School of International Studies, said that supervisors pay great attention to overseas agricultural issues when asking foreign students to write essays.
Zheng hopes the students can use what they have learned to promote the agricultural development of their own nations.
"Realizing a dream needs step by step. My first step is to open a Thai restaurant in Yangling, the area of my university, after my graduation," added Lejin.
She explained the reason for staying in Yangling is that she is unwilling to leave her teachers and fellow students.
"I want to establish a great career in China. Although I must go back to my country in the future, I hope the time comes when I am around 50."
(Source: news.cn/mrdx/Translated and edited by Women of China)