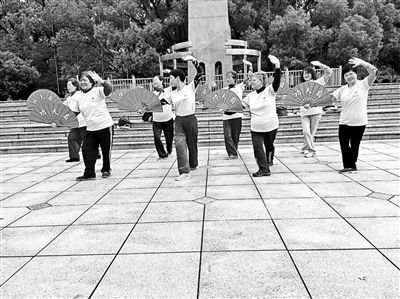 Debrah Roundy (R2 in the front) attends a square dancing event with her Chinese peers. [wenhua.youth.cn]
The video of an old American woman attending square dancing with her Chinese peers in east China's Shanghai has gone viral online in recent days.
Five years ago, Debrah Roundy from Idaho State in the U.S. came to Shanghai and taught English to her Chinese students under a program sponsored by Brigham Young University.
Roundy said that she had encountered lots of challenges, including barriers in language and the differences in two countries' food in the early days after her arrival in China. However, the public square dance came to her rescue and provided her with a shortcut to mainstream herself quickly into Chinese society.
She had to rely on body language to interact with her Chinese dancing partners from the very beginning. Sometimes, they even have disagreements with each other over how to better arrange their square dancing drills.
Nevertheless, Roundy has successfully managed the difficulties and problems in her life. Right now, she has enjoyed a sound relationship with her dance mates, evidenced by the fact that she would rather travel half of the city to dance with them right now.
Moreover, she has integrated ballet and American folk dances into her square dancing in China.
Roundy said that she will bring Chinese square dancing back to the U.S. and help more American people learn more about the artistic performance when she is back.
Debrah Roundy gives a square dancing performance. [wenhua.youth.cn]
(Source: wenhua.youth.cn/Translated and edited by Women of China)