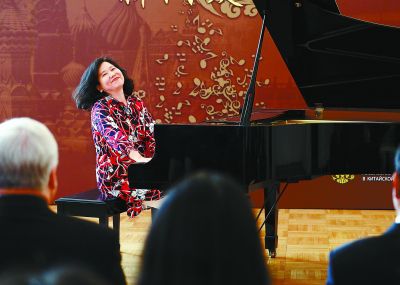 Claudia Yang plays the piano. [People.cn]
Malaysian Chinese pianist Claudia Yang recently introduced her latest production Piano Fantasia of 12 Chinese Folk Ballads to the public, which was created together with famous Russian composer Vasilyev.
Classic Chinese folk songs such as Molihua (Jasmine Flower), Fengyang Drum and other folk ballads were selected and adopted by Yang with Western classical music forms. These creations will be brought to the international stage soon.
Yang, a pianist originally from southeast China's Fujian Province, has always intended to compose traditional Chinese folk music and bring it to the West so that Westerners are able to hear Chinese folk songs.
According to Yang, production started three years ago, which included nine adoptions and three newly-created folk songs, and it was completed this April.
Referring to the production, Yang revealed that she mainly contributed to the creations and ideas, whilst Russian composer Vasilliev was in charge of the main melody and adding orchestral music to the composition.
"He was previously influenced by European music and has created a lot of music for films. His style of creation is exactly what I want, hence why I chose to cooperate with him," explained Yang.
The Tianjin Symphony Orchestra will premiere two of Yang's works, which will be conducted by famous conductor Tang Muhai at the Langfang Silk Road Cultural Exchange Center, in north China's Hebei Province.
In the coming years, Yang will also work with musicians from all over the world to perform these songs on the stage in China and other countries. Currently, she is still looking for suitable orchestras to record the 12 Chinese folk ballads and publish them.
(Source: People.cn/Translated and edited by Women of China)