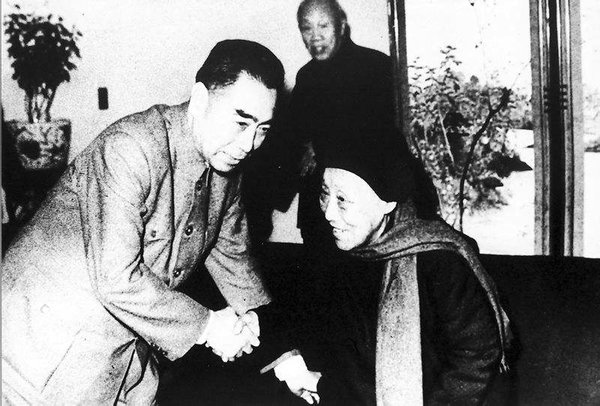 Former Chinese Premier Zhou Enlai, who also served as Chairperson of the CPPCC National Committee from December 1954 to January 1976, shakes hands with He Xiangning during a banquet held in November 1961 in Beijing to treat CPPCC members, deputies to the National People's Congress (NPC) and senior officials of non-Communist parties in China aged above 70. [cppcc.china.com.cn]
He Xiangning (1878-1972), who was the spouse of Liao Zhongkai (1877-1925) and was one of key figures in the early stage of China's Kuomintang Party, built up close ties with former Chinese Premier Zhou Enlai (1898-1976) and his wife Deng Yingchao (1904-1992) her whole life.
Both He and her husband extended consistent support to the Chinese revolution and the Communist Party of China (CPC) during their lifetime.
He, Liao Zhongkai and their two children, Liao Chengzhi (1908-1983) and Liao Mengchu (1904-1988), exchanged frequent visits with Zhou and his wife Deng before Liao, who was a founding father of the Kuomintang Party and sympathetic to the CPC, was assassinated in August 1925.
Deng recognized He as godmother when she found that she was born on the same day as Liao Mengchu, while Liao Chengzhi and Liao Mengchu addressed Zhou as their brother.
Zhou immediately visited the body of Liao Zhongkai in hospital when he got the news of his assassination. After this, Zhou himself disappeared for three days, which left Deng very worried. After a while, Deng learned that her husband had narrowly escaped from a similar assassination.
After the death of Liao Zhongkai, Zhou gave support to Liao Chengzhi and treated him as his biological brother. In turn, Liao Chengzhi made a sound performance in various kinds of tasks and missions assigned by Zhou and the CPC during the revolutionary era.
Liao Chengzhi withdrew from the Kuomintang Party when its top leader Chiang Kai-shek (1887-1975) launched a military crackdown against the CPC and Kuomintang members with sympathy to the CPC in April 1927. After a while, He officially became a member of the CPC in August 1928 and dedicated himself to the CPC's revolutionary pursuits.
During the Long March (1934-1936), Liao Chengzhi was held in detention by Zhang Guotao (1897-1979) under the pretext of espionage. On the contrary, the reason why Zhang held Liao Chengzhi in custody was that Liao had voiced fierce criticism and opposition to Zhang's conspiracy to secede his troops from the Red Army under the leadership of the CPC Central Committee.
It was Zhou who rescued Liao Chengzhi from the edge of death when they met again in September 1936. Zhou worked with Zhu De (1886-1976), who was one of the top CPC leaders and founding fathers of the Red Army, to hold an independent trial for Liao, with the aim of preventing Zhang from inflicting more charges over him whilst clearing all suspicions around him.
Later, Liao knew that he would be killed under the groundless suspicions and charges, but for the efforts of Zhou.
After the establishment of the People's Republic of China (PRC) in October 1949, both He and Deng served as members to the National Committee of the Chinese People's Political Consultative Conference (CPPCC) and often attended meetings together. Meanwhile, He was a member of the Central People's Government Committee and director of the State Council's Overseas Chinese Affairs Office. He's two posts were under the direct leadership of Zhou. The closer interactions between them in their daily work further deepened their friendship.
On the occasions of the 25th anniversary of Deng's marriage with Zhou, which fell in August 1950, and her 50th birthday in 1954, He presented two drawings and extended her best wishes to both Deng and Zhou.
In addition, He drew a picture, which was covered with magpies and peonies, and invited Zhou to write an inscription for her in 1951. Zhou accepted the invitation and wrote a traditional Chinese couplet for her whilst conveying his faith in the success of the Korean War (October 1950-July 1953), in which military forces from the U.S. and its allies invaded the Korean Peninsula and intended to threaten China's national security.
In fact, Zhou had seldom written inscriptions for anyone before that.
After the celebration of her 90th birthday in June 1968, the condition of He's health was not as good as before. Zhou paid a visit to her when she was hospitalized again in 1971. During the visit, He asked Zhou whether she could be buried together with Liao Zhongkai in Nanjing, capital city of east China's Jiangsu Province, without cremation, since the CPC Central Committee, Chairman Mao Zedong (1893-1976) and Zhou had jointly advocated for the public to abandon traditional Chinese burials.
To the surprise of many, Zhou immediately agreed to He's request and promised to let her be buried without cremation after her death. One year later, He's funeral was held just as she requested. Zhou explained to Liao Chengzhi that his mother had made great contributions to the Chinese revolution and thus deserved a decent burial under her request.
Liao Chengzhi paid tribute to Zhou and wrote an article in commemoration of the decades-long friendship between Zhou and his family when Zhou passed away on January 8, 1976. In addition, Liao Chengzhi's children collected their photos with Zhou and made them into an album in order to convey their deep sorrows upon his death.
(Source: dangshi.people.com.cn/Translated and edited by Women of China)