Lin Huiyin [eastday.com]
Nothing is more painful than a missed soul mate. This was how famous writer and journalist Xiao Qian described his feelings in 1955 when hearing of the death of his friend, the poet and historian Lin Huiyin.
Lin, the wife of modern Chinese architect Liang Sicheng, was a woman of extensive interests. In addition to her essays on building design, she also wrote essays, short stories and plays, as well as translating works from English.
She was well known in literary circles as the hostess of one of the country's most famous literary salons, regularly held at her home in Beijing's Zhongbu Hutong. Xiao used to be a regular visitor to the salon, where his long friendship with Lin originated.
Knowing Lin
In 1933, Xiao studied as an undergrad at Yenching University in Beiping (now Beijing). His short story called Can (Silkworm) was published in Ta Kung Pao, then one of the most influential newspapers in China.
The story attracted Lin's attention. Through Shen Congwen, one of the most eminent modern Chinese writers and chief editor of the newspaper's Literary Art supplement, Lin invited Xiao for a chat at a tea party at her home.
Upon seeing Xiao, Lin said: "Your writings are based on real feelings. It's rare and quite commendable."
Lin's sincerity and warmness soon put the young student at ease, and they entered an enjoyable conversation.
The hostess recited many passages of Can and gave him some insightful comments and advice, which surprised the author a lot. Xiao listened to her with full concentration lest he should miss any word she said, according to his account.
Driven by common interests, Lin and Xiao gradually had more conversations and became more and more familiar with each other.
Meanwhile, recommended by Lin and Shen, then two literary celebrities, Xiao participated in many parties held by intellectuals, and he soon became one of so-called "Beijing School Writers" – those who remained active in Beijing after the country's literary center had migrated southward to Shanghai in the 30s.
In Xiao's eyes, Lin was a literary critic of great learning and quick thinking, and he possessed a sharp tongue.
Editing Ta Kung Pao
In 1935, Xiao became an editor for the Literary Arts supplement of Tianjin's Ta Kung Pao in north China.
Xiao visited Peiping every month, organizing a party of some 20 to 30 participants at Laijinyuxuan Tea House – then a popular place among renowned intellectuals – to solicit contributions and listen to suggestions from the publication's supporters.
Lin enthusiastically attended almost every such activity.
In 1936, Xiao was transferred to the newspaper's Shanghai office, responsible for the literary supplement of both cities' Ta Kung Pao.
To enliven his page, he developed a variety of columns, promoting book reviews from theory to practice. Upon the debut of good literary works, he organized intellectuals to contribute book comments before inviting authors to share their writing experiences.
Lin supported and took part actively in each of Xiao's endeavors.
To mark the 10th anniversary of the founding of Ta Kung Pao, Xiao planned to select some of the supplement's published works and compile The Selected Stories of Ta Kung Pao.
After thinking over again and again, Xiao felt that Lin was the most suitable person to be editor because since the establishment of Literary Art, she had read every copy carefully, article by article.
He wrote immediately to Lin, who accepted the invitation and soon sent her selection to Shanghai by post.
Lin selected 30 stories in total, including not only works of well-known writers but those by emerging talents.
In addition, she also wrote some notes preceding the text of the collection, emphasizing that the main feature of these works was honesty, which according to her was more important than innovation, structure or fluency.
In 1938, when full-scale war against the Japanese broke out, Xiao moved to the Hong Kong office of Ta Kung Pao. Although Lin remained in the mainland, she still kept providing him with suggestions and support.
In 1939, Xiao traveled to London and lived overseas in different parts of Europe for several years.
Returning to Beijing
In 1947, Xiao returned. While he was away, he had received a letter from Lin, asking him to leave a whole day for a good chat together.
Xiao visited Lin's residence only to find that she was in poor health and had been advised to get a good rest. Instead, she often received guests at home, talking on and on once she joined a conversation.
After they met, Lin asked him what he had learned at the University of Cambridge and his experiences on the battlefield of west Europe. Then, she told him what her families had experienced over the past seven to eight years. But what they talked about most was still literary creation.
In September 1953, the 2nd National Conference of the Representatives of Literary and Art Workers kicked off in Beijing. Seeing Xiao from a short distance at the conference hall, Lin waved her hand at him. Xiao walked to her and sat down.
"Hello, Miss," he said while shaking hands with Lin.
"Alas, you're still calling me 'Miss'. I've gotten so old!"she said with some sentimentality.
"People will never get old as long as their spirits remain young," Xiao replied.
They began to talk about literary writing and works again. However, Xiao did not know that it was his last time he would see her.
In April 1955, Lin died of illness at 51. Her early death filled Xiao with grief.
In December 1998, Xiao was hospitalized himself. During that period, he was invited by the Baihua Literature and Art Publishing House to write a preface for its publication, A Collection of Lin Huiyin's Literary Works.
He dictated the content of the preface, which was written down by a staff member of the publishing house. Then, Xiao read it several times and made some minor alterations. Finally, he signed his name. No one expected that this article would become his last work. In 1999, Xiao passed away in Beijing at 89.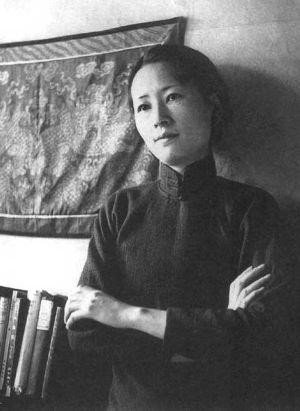 Lin Huiyin [eastday.com]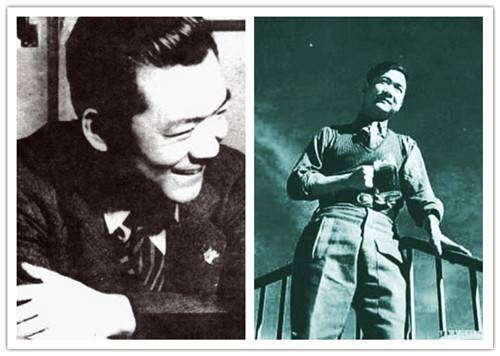 Xiao Qian [eastday.com]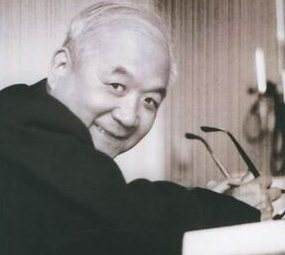 Xiao Qian [eastday.com]
(Source: newspaper.jfdaily.com/Translated and edited by Women of China)